SCROLL DOWN TO SEE VIDEOS AND TEST PDF'S
The results are in…and both of my horses are now Western Dressage World Champions!
"I Can Can I" won her Level 4, Test 3 class (thats Willow, the little dun)
"Ravenclaw" won TWO classes and was Reserve Champion in another! (bay mare aka Gabby)
I'm so glad that the WDAA decided to make the 'pandemic pivot' and go online. I learned so much by entering this virtual show!
Thank you
Western Dressage Association of America WDAA
for taking on the huge challenge of hosting this show!
Also, thanks to Suzanne Vlietstra for talking me into this…to Jesse Westfall
for mastering test reading & recording at the same time (that's talent) and to Mikelann McCarty for running the camera the rest of the time, and to Sarah Casey Kelley for entertaining me
.
I owe you all that celebratory restaurant trip we would usually do…but at least we don't have to pack up the trailer and prepare for the long drive home, lol!
Here are PDF copies of my tests from the WDAA World Show.
Click the text to read the PDF.
"Ravenclaw" 5 year old AQHA mare, aka Gabby. Shown in all Open Level 2 Classes.
Gabby won Level 2, Test 2 Open
Gabby won Level 2, Test 3 Open
Gabby was reserve champion in Level 2, Test 4
Gabby was 9th in Level 2, Test 1
"I Can Can I" 9 year old AQHA mare, aka Willow. Shown in all Open Level 4 Classes.
Willow won Level 4, Test 3 Open
Willow was 6th in Level 4, Test 1 Open
Willow was 8th in Level 4, Test 2 Open
Willow was 11th in Level 4, Test 4 Open
"Press On Regardless" rescue horse, aka Presto. Shown in Basic Level Test 1 Open
Presto finished 37th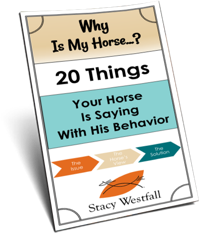 FREE PDF DOWNLOAD
WHY IS MY HORSE...?
No one taught you the skills you need to work through these things.
Riders often encounter self-doubt, fear, anxiety, frustration, and other challenging emotions at the barn. The emotions coursing through your body can add clarity, or can make your cues indistinguishable for your horse.
Learning these skills and begin communicating clearly with your horse.
Click here to learn more.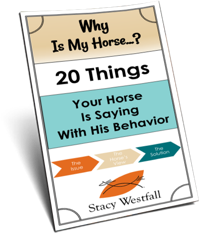 Free PDF Download "Why is my horse...20 things your horse is saying with his behavior"
PDF will be delivered to the email address you enter as will weekly tips from Stacy. Totally free. Unsubscribe anytime.