These are the Terms and Conditions of this site. You should read them carefully as use of this site signifies your consent. If you do not agree with these Terms and Conditions please do not use this site. We are committed to protecting your privacy. We treat your information in a secure manner explained below.
This site is the property of WESTFALL HORSEMANSHIP, LLC. of Perrysville, Ohio. This site is maintained for your personal use. Copying, reproducing, uploading, transmitting, republishing or any form of distributing information, text, logos or photos found on this website is prohibited without direct written permission from WESTFALL HORSEMANSHIP, LLC.
Use of this site is at your own risk. WESTFALL HORSEMANSHIP, LLC. is not responsible for any damage that may occur or virus that my infect computer equipment used during the accessing, downloading, etc. from this site. This site contains links to other websites. WESTFALL HORSEMANSHIP, LLC. is not responsible for the content of sites that may be linked to this site and navigating these sites is at your own risk.
HOW AND WHY WE COLLECT INFORMATION
We collect your information in order to record and support your participation in the activities you select. If you register for a course, a membership site, or a free training series, for example, the information is used to enroll you in the program, to enroll you in our newsletters, to track your preferences, and to keep you informed about the product and related products. As a visitor to our Sites, you can engage in many activities without providing any personal information.
If you opt in to receive any free training series, download a free product, register for a webinar, seminar, or live event, or purchase any product sold by us or promoted by us, you will automatically be subscribed to our free newsletter. If you do not wish to receive this free newsletter, you may opt out at any time. We include an unsubscribe link at the bottom of every e-mail we send. If you have any trouble opting out, please send an e-mail to us. We will manually remove you from our e-mail list(s).
Any information you send to this website, including but not limited to, e-mails (questions, surveys, comments/feedback, suggestions, etc) photos, etc. will be treated as non-confidential and non-proprietary and may be use by WESTFALL HORSEMANSHIP, LLC. on the website as well as in print or any other media seen fit by WESTFALL HORSEMANSHIP, LLC.
Purchases
The information you enter when making a purchase or an online donation will be shared with payment processors, financial gateways, and your credit card company to authorize credit card payments. Such information may also be shared with necessary third parties solely for the purpose or carrying out the transactions. Please note that if you give out personal information online through a discussion board or posting site, that information can be collected and used by third parties. Although we strive to protect our users' privacy, we cannot guarantee the security of information you post in these forums. You disclose such information at your own risk.
WESTFALL HORSEMANSHIP, LLC. recognizes that any horse related activity can and should be considered dangerous and can cause accidents and/or death. Any contact with horses should be done with great care and it is recommended to seek out professionals with experience to help. WESTFALL HORSEMANSHIP, LLC. is not liable for any actions resulting from use of tips, suggestions, articles, videos, etc. contained on this website.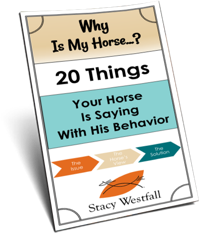 Free PDF Download "Why is my horse...20 things your horse is saying with his behavior"
PDF will be delivered to the email address you enter as will weekly tips from Stacy. Totally free. Unsubscribe anytime.