Stacy handles most of her questions through Facebook and her ever growing blog that can be viewed BLOG PAGE of this website .
 For questions concerning products, orders, etc. please contact Stagecoach West at
orders@stagecoachwest.com
or 1-800-648-1121.
For horse training questions, please search the blog section of this website. Stacy frequently answers questions from people both on her blog and on her Facebook page.
To schedule Stacy at an event please include in the subject line UPCOMING EVENT. Stacy books 90% of her events at least 6 months in advance.
To become a Dealer of Stacy Westfall DVDs and/or horse training equipment please call Weaver Leather at 1-800-932-8371
Otherwise please note that this email is flooded with messages which make it difficult to find specific emails in a timely fashion. If you feel that your email question is not addressed by the above topics please send an email with the subject line NEW TOPIC.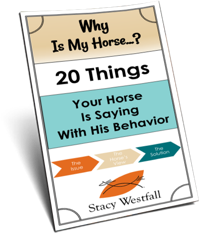 Free PDF Download "Why is my horse...20 things your horse is saying with his behavior"
PDF will be delivered to the email address you enter as will weekly tips from Stacy. Totally free. Unsubscribe anytime.