Physical Products: DVDs and Books
We always stand behind our physical products by offering returns and replacements for defective items.  New items, unwrapped and in original condition may also be returned within 30 days. Please email us to confirm the return shipping address to ensure proper direction of your package
Paid Online Events
We will also offer a similar satisfaction guarantee for paid online events. We want you to be satisfied with your purchase but we also want you to give your best effort to apply all of the strategies offered. We will offer a 30-day refund period for online course purchases. However, in order to qualify for a refund you must submit proof that you did the work in the course and it did not work for you. Each course will have its own policy that should be read. In the event that you decide your purchase was not the right decision, within 30 days, contact our support team at westfallhorsemanship@gmail.com. You must include your coursework with your request for a refund.
Coaching and Mentoring Calls
Coaching and mentoring calls also have a guarantee. At the end of the call you will be asked if you are satisfied with the outcome. If you are not fully satisfied, before hanging up,  please explain why you are not satisfied your payment will be refunded.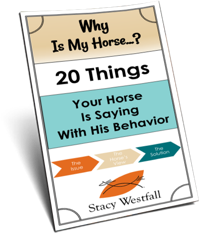 Free PDF Download "Why is my horse...20 things your horse is saying with his behavior"
PDF will be delivered to the email address you enter as will weekly tips from Stacy. Totally free. Unsubscribe anytime.