Limited Time...then they are GONE!
Now through Monday, November 30th!
On Dec 1st this system will be deleted and many of these products will be gone!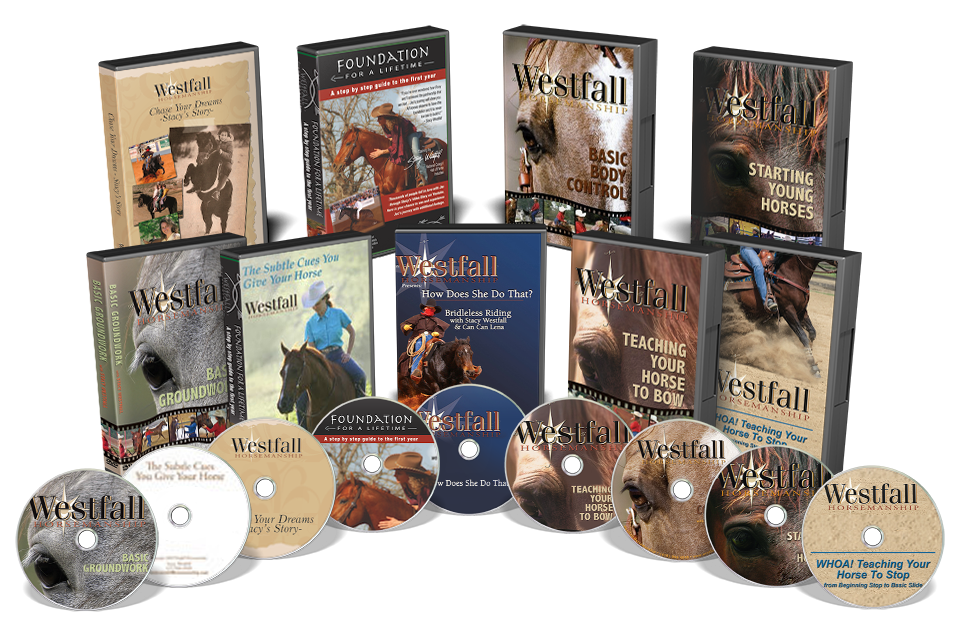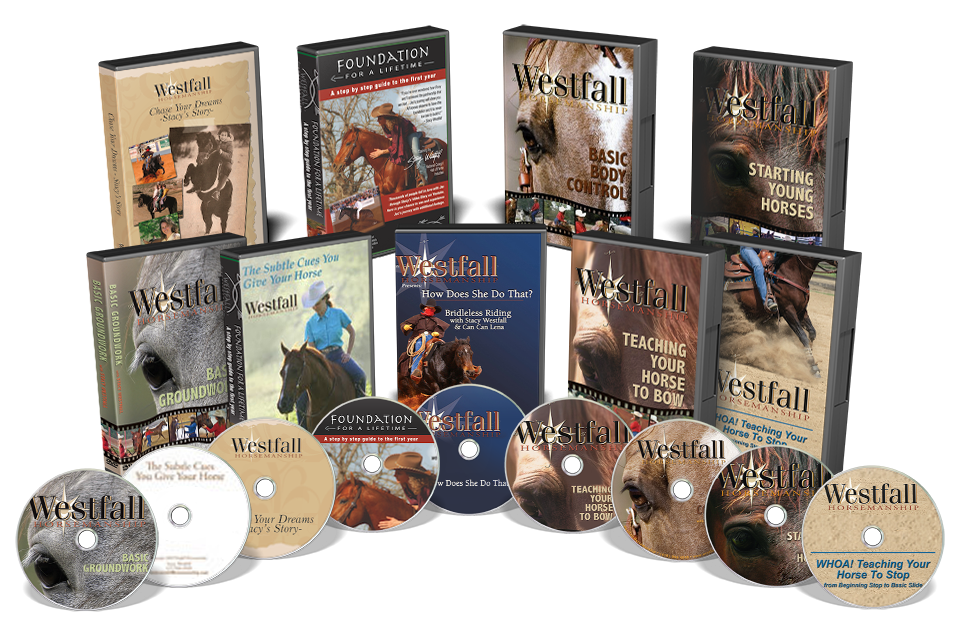 $100.00 - Free Shipping
(inside USA, additional shipping internationally)
Get all of Stacy Westfall's DVDs for 75% OFF the retail price of $400...including her award-winning book!
These DVD's have taught people to ride bridleless, teach their horses to bow, to win in the show pen...and to enjoy heading down the trail. ​
On December 1st, this sales system will be deleted and this product will no longer be available.
Basic Groundwork
DVD & free mystery DVD
$49.99 $20.00 - Free Shipping
Basic Body Control
DVD & free mystery DVD
SOLD OUT
WHOA! Teaching Your
Horse to Stop DVD & free mystery DVD
$49.99 $20.00 - Free Shipping
Bridleless Riding
DVD & free mystery DVD
SOLD OUT!!!!
Foundation for a
Lifetime DVD & free mystery DVD
$99.99 $20.00- Free Shipping
Q: Which DVD do you recommend?
A: It depends on your goals.
Basic Groundwork and Teaching the Bow both focus on groundwork exercises. Both use horses with different levels of training, including horses that have never done the exercises.
Basic Body Control teaches the rider how to control the horse's head/shoulders/hips independently and in combinations. It is the best videos for ridden exercises such as bending, counter-bending and moving hips.
Whoa focuses on teaching the horse to stop. It is very detailed and shows horses in various stages. If you want to improve your stop…this is the DVD for you.
The Bridleless Riding DVD shows the cue system that Stacy uses to cue all of the advanced bridleless movements. She shows you how to control the horses speed, transition from one gait to another and steer…all without the reins. She shows how she cues for lead departures, rollback and sliding stops. This is an excellent video for understanding what is possible and how the overall bridleless cue system works together to create the bridleless rides shown at the beginning of the video.
Q: When does the sale end?
A: Monday, December 1st. On this day the sales system will be deleted and many of these products will no longer be available.
Q: Why are they being discontinued?
A: The content of these DVD's is still very relevant…but the clothing styles are not, lol. Stacy is moving her content into digital courses and will discontinue these DVD's.
Q: Which DVD comes with the 'Buy One, Get One for $20' sale?
A: You select the primary video you want to purchase and then Stacy will add a bonus DVD to your order!
The extra DVD will be another one of Stacy's teaching DVD's (Groundwork, Body Control, Whoa, Bridleless, Teaching the Bow, or Foundations for a Lifetime)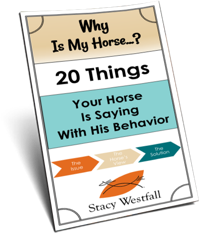 Free PDF Download "Why is my horse...20 things your horse is saying with his behavior"
PDF will be delivered to the email address you enter as will weekly tips from Stacy. Totally free. Unsubscribe anytime.