Many people feel doubt when training their own horse. I teach people how to understand, enjoy and successfully train their own horses.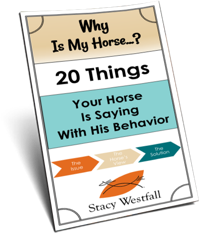 Free PDF Download "Why is my horse...20 things your horse is saying with his behavior"
PDF will be delivered to the email address you enter as will weekly tips from Stacy. Totally free. Unsubscribe anytime.
AQHA Journal story on Stacy Westfall!
Stacy Westfall laughs, humbly, explaining how she almost didn't get up the nerve to reach out to legendary three-day eventer Denny Emerson. She'd had her horses on the East Coast and thought maybe she could stop by his farm in Vermont while she was nearby. Eventing isn't necessarily in Stacy's wheelhouse, but horses and learning are. After a gracious invitation from Denny–because, really, who wouldn't want Stacy to come to their barn?–she gave a mini clinic to Denny's working students, and then he asked her to hop aboard one of his horses to play with counting strides to a jump...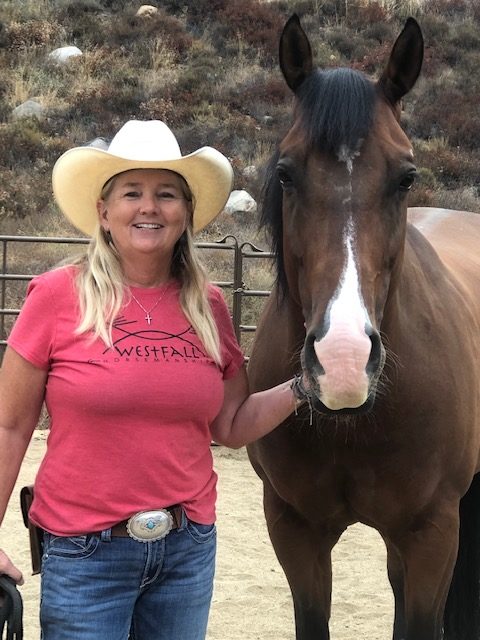 "I have been wanting to neck rein my horse for the last few years... When I saw Stacy had a new course on Steering & Neck Reining I was so excited and ordered the class and immediately started watching the modules... One of the greatest tools is the Audio Ride Guide.
Thank you Stacy Westfall for creating your Course Curriculum. Your courses and video work are very professional and right on the mark for helping us train our horses." -Linda Turner & Del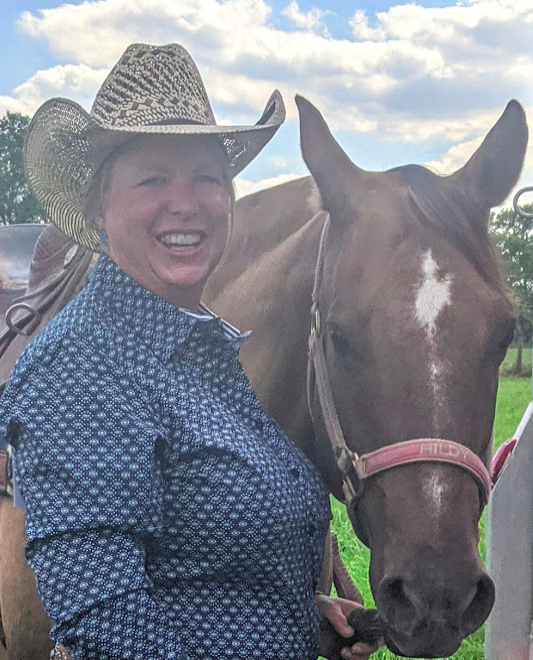 "For many years I could never get Hildy to slow down and I really wanted to learn how to ride one-handed. I tried to get professional advice locally but no one could help me. I had pretty much lost hope on Hildy ever slowing down and being able to ride one-handed until Stacy taught me---"The Second-Hand Slide". When I learned about the "Second Hand Slide" and the "Hug" my horse totally changed!!! She slowed down, became collected, and it felt AWESOME!!! I still cannot believe that my horse can walk/trot/canter nicely, with a collected frame while I am riding one-handed. This was a HUGE breakthrough with my horse. Thank you so much, Stacy, for always providing easy to understand lessons and techniques that I can follow and apply with my horse. The results have been OUTSTANDING and I am so HAPPY!!" -Martina Brown & Hildy
- MARTINA BROWN
Interested in advancing your skills and communication with your horse?
I offer both in-person and online opportunities. Click here to learn more.
Growing up, I shared a love of horses with my mother but neither of us knew what we were doing. Over the years we dealt with horses that wouldn't load into trailers, wouldn't pick up their leads and wouldn't stand still to be mounted. I fell off more times than I could count and was bitten, stepped on and run away with before I was old enough to drive a car. There were many, many good times too. My favorite childhood memories all involve horses (and one ornery pony.)
It took me years to develop to the point where I became a successful competitor in a male-dominated industry. The beauty of this is that it proved that true strength is a mental game more than a physical one.
I believe in creating win-win-win relationships. I can show you how to reach your goals faster if you're willing to put in the work. Whether you love trail riding, have goals of showing or would someday love to understand bridleless riding, I can show you the way.
…and yes I still clean stalls.