Many people feel stuck when training their own horse. I teach people how to understand, enjoy and successfully train their own horses.

No matter how you prefer to learn...I've got you covered.
Do you love audio? Check out my podcast page or subscribe in your favorite podcast player!
Do you love video? Check out my YouTube channel or the blog page to see my latest videos.
Do you love reading? Use the search bar in the top right to search any subject. With nearly 1,000 blog posts I've written here on the website...you're bound to find an answer.
Have a question you want to ask? See the orange tab on the right hand side? Leave a voicemail for me to answer on the podcast!
Do you like structured learning? Check out my online courses by clicking the student login at the top of the page. My two newest online classes are amazing!
I hope you find as much satisfaction and enjoyment with horses as I have.
Ride with Faith,
Stacy Westfall
This is for you if...
Do you want to understand the whole steering process...so you could figure out what to work on next?
Do you feel confused at times about which aid to use when?
Do you wish you could simplify the aids you're giving your horse?
Does your horse seem frustrated...and you suspect your inconsistency could be to blame?
In this course, Stacy clearly explains the stages of training, the techniques in each stage, how she uses them and why.
She shows examples of horses that are confused and frustrated as well as the appropriate way to handle them.
If you are a rider who strives to understand training from the horses point of view, with actionable instructions on how to train your own horse, this course is for you.
Workshop #1- Goal Setting & Problem Solving- available now!
Workshop #2- Coming July 21, 2020: Leadership & Communication
Workshop #3- Coming October 20, 2020-Teamwork & Feedback
Bonus: Any online participant will receive one free ticket to an in-person event to be held October 21, 2020 at Stacy Westfall's barn! This will be a day of auditing and participating in an equine facilitated learning experience.
you are open to the idea that changing the way you approach a challenge can change the outcome

you would enjoy spending the day in a learning environment with other horse people

you would like to increase your confidence even when you face setbacks
you would like to be more effective at reaching your business & personal goals
you have listened to Stacy's teaching materials (podcast, emails, videos) and would like to learn more
Come to one or come to them all!
"My dream was to learn to train a reining prospect from start to finish. I'd about given up, and then I found Stacy."
- Ashley Hermann
"Before I worked with Stacy, other trainers and coaches had left me with the impression that my horse was strong-headed, not a very good horse, and that I'd always have to fight with her. Thanks to Stacy, I know none of that is true."
- MARTINA BROWN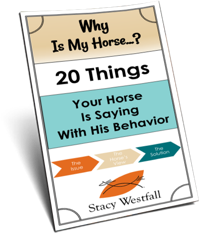 Free PDF Download "Why is my horse...20 things your horse is saying with his behavior"
PDF will be delivered to the email address you enter as will weekly tips from Stacy. Totally free. Unsubscribe anytime.