Bareback & Bridleless Freestyle

Video
I'm Stacy Westfall. I've loved horses as long as I can remember and I've followed that passion all my life. My mission is to share both what I've learned about horses, and what horses have taught me about life.  Many people feel stuck when training their own horse. I teach people to understand the 'why' as well as the action steps for creating clear, confident communication with their horse….which leads to better results.
My experience as an international speaker, professional coach and sought-after endorser has given me the chance to work with a variety of people and horses, in a vast number of environments.  I take each problem or challenge and try to see it from its unique perspective so I can offer a unique solution, not a cookie-cutter response.
I appreciate the time and effort my clients spend working with me, so I do my best to make sure clinics, lessons, training materials and presentations are packed with useful insights.  My aim is that clients walk away with a set of tools, and the confidence they need, to continue to move forward in their horsemanship aspirations – and in life.
September 26th, I was born.
Are you or were you a horse-crazy girl like I was? At age six, I went from dreaming about having a pony to owning my own pony, Misty. I bought her, and all the lessons she taught me, for a penny.
Riding Misty, my feet were practically dragging on the ground. My horse-craziness wasn't going away. I needed a horse. After much negotiation, I entered into a contract with my Dad. He promised he'd get me a horse if I brought home a straight-A report card. Spoiler...I got my first horse - Bay.
Can fifteen minutes change a life? YES!
Fifteen minutes! That was all it took for a math teacher to change the course of my life. Before that, I didn't realize a career in horses was a possibility for a girl like me.
My first foal, Scrapper was born.
I saw this thing called "reining" for the first time and on the spot I decided I would do this someday. How? That didn't matter. I had the dream.
A Double Dose of Love
- Jesse AND Bay!
He sold his horse to buy me a ring.
I said "yes". 
What I'd been learning at college had me doubting my little-girl belief that I had a special relationship with my horse. I started to believe that I had watched too many Disney movies as a kid. That is until Bay proved otherwise, and changed my thinking forever.

Planning, Working, and Building a Life
I married my cowboy love, Jesse Westfall, but to make ends meet, we both got "real" jobs. I was soon a pregnant stay-at-home mom - and pregnant again - and again. In the middle of all of that we started a horse business on the side, bought our first house and worked 16-18 hours a day to just get by. Our first five years of marriage we didn't make over $20,000 per year with all income combined.
Jesse quit his job and we went full time into the horse-training business. With 20 horses in training, both of us were busy training and showing, giving 4-H lessons and anything else we could do to earn money with horses.
From Darkness to the Dawn
I had it all - husband, kids, barn, indoor arena, outdoor arena, truck, trailer and a waiting list of horses to keep the barn full year round. And I was miserable. We were an assembly line for horses, turning out robots, and had no time to really understand any of them. Just when I was ready to quit, everything changed. 
So I might not need reins? A mistake leads to a miracle that I didn't see coming.
The most asked question after my first bridleless win was, "How does she do that?" 
I Won $20,000 in My Wedding Dress!
What is more impressive - winning $20,000 in the dress, or that the dress fit after three kids?!?!  Freestyle reining is a great second career for a wedding dress. But riding in a wedding dress comes with its own set of complications. 
Facing off with three top-name horsemen, I won the Road to the Horse Colt Starting competition.  As the only woman to have been invited up until then, I was catapulted into national magazines beyond just the reining world. 
My dad died unexpectedly. I dedicated the ride to my Dad and won the American Quarter Horse Congress freestyle reining competition riding bareback and bridleless. 
I've always had two dreams. One was to stand in the middle of an arena, coaching riders, like the big-time dressage coaches do at the Olympics. The other was to be a writer.
The Ellen Show!
Who knew that when I embedded the video of my bareback/bridleless ride on my new website that it would go viral? Ellen DeGeneres saw it, and before long, both Roxy and I were in California chatting with Ellen on TV. 
The first time I rode without a bridle on the thing that came to mind was the movie, The Titanic. This year I turned it into a freestyle. Vaquero and I not only won the Congress Freestyle, but we also came within a half a point of tying the highest freestyle score ever, which is held by Roxy and me.
Empty Stalls, Empty Heart. What Now?
For the first time in my life I dreaded going to the barn. Three very influential horses in my life all died in a matter of months. I needed to find my laughter and purpose again. 
I was inducted into the Cowgirl Hall of Fame. Wow. That happened! 
Homeless sounded like a good idea so we sold our house, packed up our three kids and a trailer full of horses, and began wondering the country. We crossed the country from coast to coast towing a horse trailer and home-schooling our boys. 
We trusted that our calling to leave our home of fourteen years would be followed by clear guidance as to when we had reached our next home. It was. The story of how we landed us in Loudonville, Ohio, is almost too good to be true.  But it is. Read the story
Whew, I'm enjoying my new home, riding horses and teaching people how they can chase their own dreams! I believe it. I live it. I want to help you do it, too. Come visit me either at an event online or at my home. I teach people how to understand why their horse does what it does. Then I show them how they can build clearer communication, get better results and achieve their dreams. Are you interested?
AQHA Journal story on Stacy Westfall!
Stacy Westfall laughs, humbly, explaining how she almost didn't get up the nerve to reach out to legendary three-day eventer Denny Emerson. She'd had her horses on the East Coast and thought maybe she could stop by his farm in Vermont while she was nearby. Eventing isn't necessarily in Stacy's wheelhouse, but horses and learning are. After a gracious invitation from Denny–because, really, who wouldn't want Stacy to come to their barn?–she gave a mini clinic to Denny's working students, and then he asked her to hop aboard one of his horses to play with counting strides to a jump...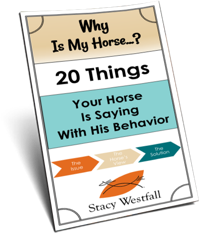 Free PDF Download "Why is my horse...20 things your horse is saying with his behavior"
PDF will be delivered to the email address you enter as will weekly tips from Stacy. Totally free. Unsubscribe anytime.