The AQHA Journal magazine story. Scroll through this PDF or click to download.
I'm kinda speechless (can you believe it?) and I don't know what to add except, thank you to Holly Clanahan for telling the story, Donnie Rosie for the beautiful photos and those who were interviewed, my husband Jesse, and friends Suzi Vlietstra and Molly Wagner.
I've always viewed my life as chapters in a book…or multiple books.
When I look back at high school for example, that seems like someone else's story.
The story of me…but past me. Stacy then…not Stacy now.
Reading a story like this is surreal in that same way.
Not quite as distant as high school Stacy…but with the goal to grow each day…it still has a bit of a reflective quality to it.
Thanks again to The American Quarter Horse Journal for this experience!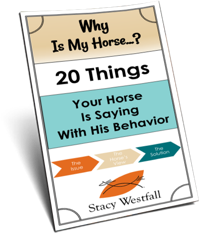 FREE PDF DOWNLOAD
WHY IS MY HORSE...?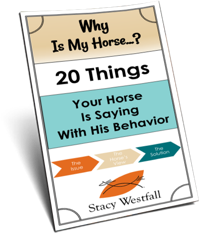 Free PDF Download "Why is my horse...20 things your horse is saying with his behavior"
PDF will be delivered to the email address you enter as will weekly tips from Stacy. Totally free. Unsubscribe anytime.