"Stacy, how do you get over the grief of losing your beloved horses?. Roxy & Vaquero. I lost my Paint gelding, Boo, last year. I had to put him down on Christmas day. The closer it gets to Christmas the more emotional I get. I am in tears as I am writing this. I miss him so much. In July my Paint mare Montana coliced and I had to have her put down. I raised both of them from babies and it has been really hard for me. I am riding again but I still miss them so much."-Joyce P.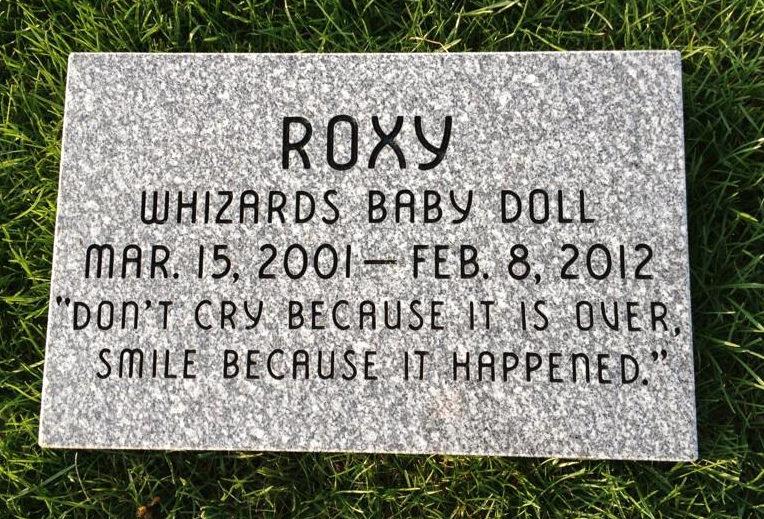 I was fortunate to grow up in a family that had animals…which also meant that I learned early about death. We had rabbits, chickens, dogs just to name a few, which also meant that I learned that they all had varying natural lifespans. According to a quick Google search, the average human lifespan in the US is 79 and the average for horses is 25-30 years. I also learned at an early age, when my rabbit died of mastitis, that sometimes even that time is cut short.
It was very public when Roxy and Vaquero died, both at young ages but I have had other horses live well into their 20's and 30's. When they died the only real difference was that it was a little more expected…but not necessarily easier.
The morning Roxy died I stood in the vets clinic with Greg and through tears told him a quote that I had read somewhere, "Don't cry because it is over, smile because it happened." Knowing this didn't stop the tears but it has helped me to remember the good times. And I think that might be the key.
*            *            *
My remuda in heaven…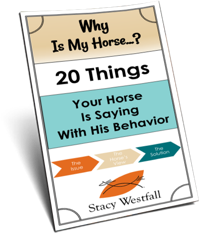 FREE PDF DOWNLOAD
WHY IS MY HORSE...?
No one taught you the skills you need to work through these things.
Riders often encounter self-doubt, fear, anxiety, frustration, and other challenging emotions at the barn. The emotions coursing through your body can add clarity, or can make your cues indistinguishable for your horse.
Learning these skills and begin communicating clearly with your horse.
Click here to learn more.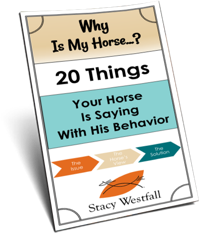 Free PDF Download "Why is my horse...20 things your horse is saying with his behavior"
PDF will be delivered to the email address you enter as will weekly tips from Stacy. Totally free. Unsubscribe anytime.