For many years I accepted any horse for training. Maybe they were bred to be famous or maybe they were unregistered and abused. Either way, I would take them. 30 days, 60 days, three years. All were possible if you just paid your bill.
Until one day….
A man called and asked if I would train his horse for 30 days. I said 'yes' and we set the date for the horse to arrive. I asked him some general questions about the horse, which was a two year old, and about his goals, which was to ride it.
I gave my general disclaimer about '30 days of training doesn't equal a broke horse' (the real speech is five minutes or longer) but he made it clear that money WAS an issue and he only wanted 30 days.
I thought, 'OK, I get it. Money is an issue and I will do my best…but I am not sure he 'heard' me when I explained the horse won't be solid after 30 days…..'
So I made a mental note to give the '30 days speech' again when he dropped the horse off.
He arrived in the evening, after work, after dark, with his horse. I gave my speech again and this time it was received even more poorly. He was only paying for 30 days and I needed to get my job done.
Understanding financial pressure and trying to size up what he wanted to achieve in 30 days….aside from 'rideable'….which is a matter of opinion in many cases….I began asking more goal oriented questions.
Frustrated at dealing with my many questions and clearly irritated that 'riding' could mean more than 'riding' he finally stated that he was planning on having his son ride the horse in 4-H that coming summer.
So I gave the '30 days' speech….again. He didn't appreciate it.
Jesse was finishing things up in the barn for the night and I decided to work the horse for just a few minutes in the arena. I knew I needed to accomplish a lot in 30 days and the sooner I started the better. The horse led decently down the isle and into the indoor arena.
I attached a lunge line and picked up a stick and string. The horse seemed quiet enough and I began rubbing him all over with the stick and string. It went well and the horse didn't mind at all. I began to relax.
I lead him to the middle and asked him to lunge around me. He walked out and began to  trot a circle around me…maybe someone had done some work with him.
One circle, two circles and then he turned toward me and charged, ears pinned. Stunned, I jumped to the right and swung the stick to make contact with his neck. He swerved to avoid me like a pro and headed back out to the circle.
"Jeesssse!" I yelled to my husband as the horse circled me. I felt like a mouse being circled by a hawk. 'Yeah?' he responded as the horse dove at me again.
'HELP!' That brought Jesse running.
With no time to explain and no 'good' spot to stop in sight I asked him to join me in the circle. He took the rope, I took the stick and in two more circles when the horse dove in again, ears pinned, I was able to stand my ground and hit his left side of his neck several times. Finally he stopped facing us at the end of the line seeming to contemplate his next move.
I filled Jesse in and after a few minutes rest decided to give the horse the benefit of doubt. Maybe this was his first time and he was just testing me out. It sure felt like he had done it before but….
We, Jesse and I, went several more 'rounds' with the horse; who did improve but never lost the hawk like study of us. We found a 'good' place to end (horse not charging us!) and put him away.
And I started thinking. Not so much about the horse…but about the owner.
The owner wasn't listening already, was not open to my thoughts and ideas. He was just upset that 30 days and rideable wasn't clear enough. Would he 'hear' me when I explained his horse was tough? Would he care? Who had taught this horse to charge? Didn't he say he wanted his son to ride this horse? When I say this horse is not kid safe will he listen?
He hadn't 'listened' up to this point so I had no reason to believe he would begin now. And now there was a child involved.
No. I wasn't willing to be involved in this.
I called the owner…and he was mad. Mad isn't strong enough. He was HOT!
The horse stayed at my house less than 24 hours.
Let me be clear here. I have dealt with worse horses. 'Bad' horses don't bother me….I find them exciting and interesting.
Owners who won't listen are a losing formula. Things are hard enough if the owner is in agreement with me…but when they are not, no one is going to be happy.
For me, this was a turning point. I moved the 'goal setting' conversation to the beginning of the process….well before the horses arrived. If the owners goals didn't line up with what I was willing to do, or participate in, then the horse didn't come.
If more trainers, and owners, would draw a line in the sand based on their values the world would be a better place for horses.
P.S.-Oh, in case you are wondering what became of the horse….
I ran into the owner at the county fair in the fall. He was still REALLY angry but made it a point to let me know his son HAD shown at the fair on the horse. Yes, he had shown and he had been dumped three times during the fair that week. But he had shown.
I walked away knowing that the owner felt glad that he had proven me wrong.
I felt good that I had NOT participated in the craziness. If your child being dumped three times at the fair is your idea of success…I don't want to be on your team.
(also…the horse in the photos is NOT the horse I refused to train)
—————————————————————————————————
Update, March13, 2017. With over 230+ comments this topic clearly resinated with readers. Occasionally the comments will turn toward the breed mentioned. I only mentioned it because I was attempting to have you visualize the experience. The breed could have been swapped for any other breed because the breed wasn't the point…the owner was.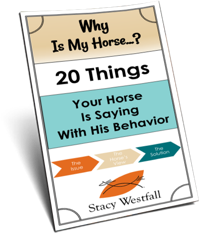 FREE PDF DOWNLOAD
WHY IS MY HORSE...?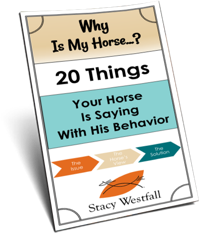 Free PDF Download "Why is my horse...20 things your horse is saying with his behavior"
PDF will be delivered to the email address you enter as will weekly tips from Stacy. Totally free. Unsubscribe anytime.