FEI World Cup Dressage, Omaha, Nebraska, March 2017
I have to admit…I feel a bit out of place. 
Aside from attending a small schooling show this is the first dressage show I have attended with the intent of being an avid spectator and fan of the sport. I have had a life long fascination with the discipline which began with watching the Olympics on TV as a child.
As a teen, my mother and I took lessons for a few months at a dressage barn in Maine. There was such a gap in our knowledge and our horses at home that although we found it interesting we didn't continue. 
Fast forward many years and I eventually found myself at an expo where Jane Savoie was also a speaker. One afternoon as I was exiting the arena on Roxy, bareback and bridleless, I encountered her. We visited about many things and at one point I said to her, "I want to do dressage." To which she replied, "You already are."
I responded, "OK, I want the saddle, the clothes and the BIG moving horse!"
We both laughed and then talked a little more seriously about what dressage was and how it related to what I was doing with my reining horses. I will save those thoughts and ideas for another blog. 
That conversation with Jane happened ten years ago and still my fascination with the sport continues. Is it still the seed that was planted while watching the Olympics as a child? Is it a desire to keep learning? Or is it the BIG horses that fascinate me? 
Maybe it is a bit of all of it. 
Yesterday I spend my first day at a dressage show. 
Under my turtleneck and sweater (what does one wear to a dressage event?)…I still wore my belt buckle.
At the end of the day two things were clear. 
#1-I'm still fascinated with the sport. 
#2-A reiner…horseman…colt starter…whatever I am can learn things from the sport.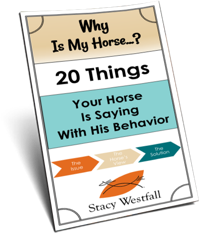 FREE PDF DOWNLOAD
WHY IS MY HORSE...?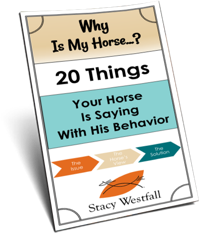 Free PDF Download "Why is my horse...20 things your horse is saying with his behavior"
PDF will be delivered to the email address you enter as will weekly tips from Stacy. Totally free. Unsubscribe anytime.