"Dear Stacy, Are all 2 year olds jerks? My young boy is 2 1/2 and he's just a brat. He's so smart and will be great one day but he really has our number and doesn't hesitate to pin his ears and even threaten to kick us from time to time. He's also a nibbler…aka…acts like he wants to bite. We haven't done too much with him because its takes such commitment to make sure we don't let him win. I don't know if he needs a new owner or time to mature. Help."-Apryl B.
The things that you are describing are not things that tend to go away simply with age. While wine may 'mature' when left alone in barrels horses mature with training.  Imagine a six year old child that acts disrespectful or even threatening, leaving them alone until they are fourteen is not likely to improve the situation. The same is true with horses…only they are much bigger.
Horses come with a variety of temperaments and some are more difficult or challenging than others. These horses do require more of a commitment just to keep them respectful which seems to be what you are describing.  You did not mention if he was a stallion or a gelding but if he hasn't been gelded yet I would highly recommend doing so.
No, they are not all jerks. If you go back and look at Jac in this episode he was two and a half and well behaved, but if you go back and look at Episode 3 he was a handful. He matured because of the training. If you have the time to invest as well as the desire then he still might be a good fit. If, however, you don't have the time to commit or find that he is more than you can handle you should probably look at other options.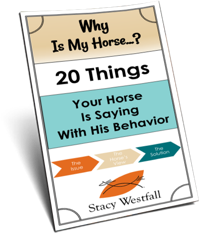 FREE PDF DOWNLOAD
WHY IS MY HORSE...?
No one taught you the skills you need to work through these things.
Riders often encounter self-doubt, fear, anxiety, frustration, and other challenging emotions at the barn. The emotions coursing through your body can add clarity, or can make your cues indistinguishable for your horse.
Learning these skills and begin communicating clearly with your horse.
Click here to learn more.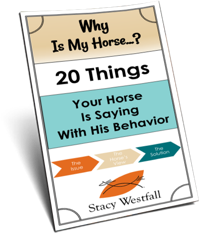 Free PDF Download "Why is my horse...20 things your horse is saying with his behavior"
PDF will be delivered to the email address you enter as will weekly tips from Stacy. Totally free. Unsubscribe anytime.