"Hi Stacy! Question for you. Do you start your training sessions with lunging? I lunge my horse every time I ride and also any horse I'm going to ride. Lately I have been talking with other friends who think lunging is not necessary and one who says it makes her horse more naughty and hot. Just wondering what you think about it. Thanks:)" -Melissa T.
What is the purpose of lunging a horse? Is it to physically wear him out? Is it to change his mental state of mind? Is it to teach him a new concept? Lunging has been used with all of these goals in mind at some point…the question is 'why are you lunging your horse?'
Early on in a horses training I use lunging, or groundwork, as a big part of my training. My goal is to begin to change his state of mind, which is a new concept to the horse at that time. Part of this often involves physical exertion because we often work the body to influence the mind. If you go back and watch the early episodes of
Stacy's Video Diary
you can see a huge change in the horse's behavior in a few days. This is because I am doing more than just running the horse around me…I am using a variety of groundwork cues to train him.
As the training progressed and the horses mental state of mind was changed, I began riding more and I gradually reduced the amount of groundwork.
Many people use lunging in an attempt to wear the horse out. If the horse's mind is not engaged but instead they are only asked to physically exert themselves this should be considered an attempt to wear the horse out. The problem with this is that the horses get more and more fit, requiring longer and longer lunging times. Engaging the mind is far more effective than only trying to wear out the body.
If lunging is making the horse more naughty or hot I would evaluate what methods are being used. This is most common if the horse thinks the only point is to run wildly around the human. If instead of lunging the handler instead uses groundwork to engage the mind then the horse should respond more favorably. If not, then the pair should look at taking some lessons.
I don't always lunge…but I do always evaluate how they are behaving on the ground. With a horse I know this 'evaluation' may take place as I lead them to the area where I groom and saddle and then out to mount up. If I know the horse I can evaluate their mental state in this short amount of time, much like you can evaluate a friends state of mind during a short 'hello.' If I detect that they are feeling fresh or seem distracted then I may choose to do some groundwork.
To decide if you should lunge you should be able to identify your purpose for lunging. You may lunge a horse that is new to you for an evaluation, or a horse you know because you detected his behavior was a bit odd, or yet another horse because you would like to improve your communication on the ground.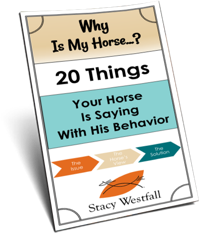 FREE PDF DOWNLOAD
WHY IS MY HORSE...?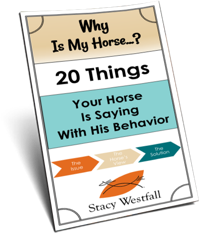 Free PDF Download "Why is my horse...20 things your horse is saying with his behavior"
PDF will be delivered to the email address you enter as will weekly tips from Stacy. Totally free. Unsubscribe anytime.