This question was posted to me on Facebook:
"Whats ur fave episode?"-Chelsey B.
My favorite is probably Episode 26…the first three minutes. I love it because Jac is asking questions. That means that he is comfortable asking questions while at the same time he is still being respectful. To me this is a beautiful illustration of how the conversation between a horse and human can be.
The interesting thing is that in this episode many people would have said that Jac was being 'bad'. I knew the history and I knew what I had been rewarding Jac for doing in previous lessons. I was also willing to see the situation from Jac's perspective.
It is ok that Jac was making mistakes. Mistakes are part of the learning process. How people react to your mistakes says more about them than it says about the one who made the mistake.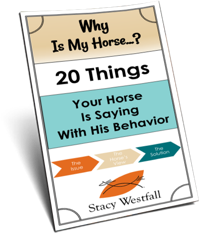 FREE PDF DOWNLOAD
WHY IS MY HORSE...?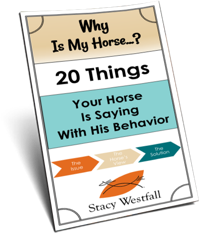 Free PDF Download "Why is my horse...20 things your horse is saying with his behavior"
PDF will be delivered to the email address you enter as will weekly tips from Stacy. Totally free. Unsubscribe anytime.