October 13, 2011 at 9:57 pm
Hi Stacy My name is Pat and I am the lady who wants you to make a full lenght movie of yourself and how you started out with your love of horses and what your mom taught you about horses. Please look into it and contact Disney Productions to see what they can do and also ELLEN, I KNOW she would LOVE to see it, after all, she paid for you and your family to be on her show with Roxy, so let's get on with the show!!!
Pat got me thinking because this request comes in frequently. In fact I have even had a book agency and a movie agency contact me. But I need help. I don't know the first thing about writing a book. I have written articles though and I was thinking maybe if I broke it down into small sections maybe I can do it. Will you help me? What would you want to know? Would you please suggest some ideas?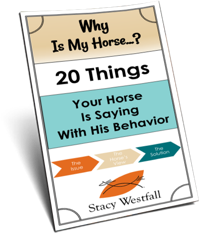 FREE PDF DOWNLOAD
WHY IS MY HORSE...?
No one taught you the skills you need to work through these things.
Riders often encounter self-doubt, fear, anxiety, frustration, and other challenging emotions at the barn. The emotions coursing through your body can add clarity, or can make your cues indistinguishable for your horse.
Learning these skills and begin communicating clearly with your horse.
Click here to learn more.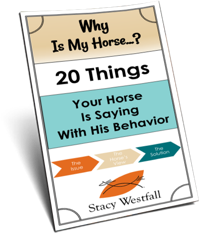 Free PDF Download "Why is my horse...20 things your horse is saying with his behavior"
PDF will be delivered to the email address you enter as will weekly tips from Stacy. Totally free. Unsubscribe anytime.