Life Law #10: You have to name it before you can claim it.
Strategy: Get clear about what you want and take your turn.
The last and final law and on New Years Eve of all days. Can there be a better day of the year to make that list of things you want to claim this year…and in your life?
I would suggest actually writing the list down. Early in our marriage Jesse and I wrote lists (at the same time but not looking at each others) of what we wanted to accomplish in the next 5, 10, 15 and 20 years. Once written and discussed they were stuck inside our Bible and left largely untouched. The shocker….five years later we had reach most of the goals ON THE WHOLE LIST. I am a believer in written goals. Here are two parting thoughts:
'The difference between a Dream and a Goal is a timeline.'
Earl Nightingale- "It's not what people are willing to DO to achieve their goals that keeps them from achieving their goals. It is that they are not clear in defining what they are willing to GIVE UP."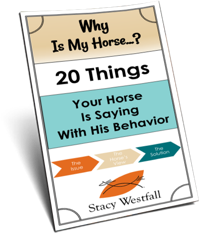 FREE PDF DOWNLOAD
WHY IS MY HORSE...?
No one taught you the skills you need to work through these things.
Riders often encounter self-doubt, fear, anxiety, frustration, and other challenging emotions at the barn. The emotions coursing through your body can add clarity, or can make your cues indistinguishable for your horse.
Learning these skills and begin communicating clearly with your horse.
Click here to learn more.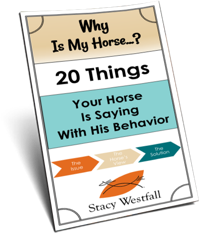 Free PDF Download "Why is my horse...20 things your horse is saying with his behavior"
PDF will be delivered to the email address you enter as will weekly tips from Stacy. Totally free. Unsubscribe anytime.