Memorial Day weekend generally involves lots of foods. Growing up my horses always enjoyed eating corn husks and watermelon rinds during the summer. I also know horses that love potato chips and if I remember correctly one of the retired racehorses at the Kentucky Horse Park eats buttermilk biscuits! Just yesterday I was talking with someone who said her horse loves to drink Monster energy drinks!
What strange things do your horses enjoy?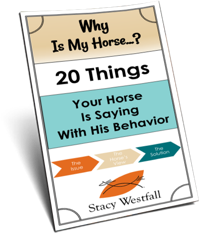 FREE PDF DOWNLOAD
WHY IS MY HORSE...?
Free PDF Download "Where is my horse...?"
20 things your horse is saying with his behavior.