How will you spend this Memorial Day weekend? Before I try to figure out where there is a Memorial Day celebration I can attend or where we might be able to trail ride I wanted to start the weekend by posting a photo to remember the significance of the weekend. Did you know that it was first celebrated after the American Civil War as 'Decoration Day'? The name came from the act of placing flowers on the graves in remembrance.
Our family took a trip to visit San Antonio earlier this week. It is such an odd feeling to stand where people fought and died and change the course of history.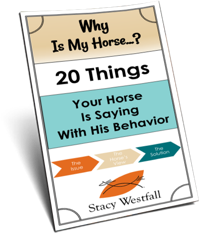 FREE PDF DOWNLOAD
WHY IS MY HORSE...?
Free PDF Download "Where is my horse...?"
20 things your horse is saying with his behavior.