Five days at a horse expo means five days of seeing horses, touching horses and talking horses. You would think that after it ended the desire to look for horses would diminish but…nope. To finish our time here in Australia we did pick some things that were slightly less related to horses.
Maybe.
First up was a trip to Craig's hut, the setting for the movie, The Man from Snowy River. Ok, this was totally a horse related trip!
On the way, we drove through a town and I spotted a tack store…it was the horse on the sidewalk that caught my eye.

We happened to slow slightly and I noticed something behind the horse that seemed familiar…
The Weaver Leather logo caught my eye and I recognized the photo, lol, it was me! Too funny. We stepped inside to look around and visit.
Several of the people there had been at Equitana and were surprised to see us show up in the store. We had a good laugh, got directions to a coffee store and continued on. I just love that horses give so many of us a common point of interest to meet around!
The drive up to the hut was impressive. Although the famous hill scene was filmed somewhere else the sides of the road in many places seemed that you could have filmed it anywhere. There was a storm blowing in but the weather held out until after we left. It did create dramatic photos!
This is a location where next time I would plan to ride a horse!
Check out the view as we drove down. The rain had finally caught up with us.
At the base of the mountains, we saw another sight that reminded me of home…sort of. At home, as evening comes the deer come out and when driving you need to be careful. In Australia…
Mobs of kangaroos do the same thing! How cool is that?
Ok, I've got to go get ready for today's Australian adventure:)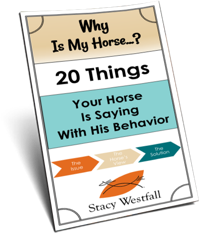 FREE PDF DOWNLOAD
WHY IS MY HORSE...?
No one taught you the skills you need to work through these things.
Riders often encounter self-doubt, fear, anxiety, frustration, and other challenging emotions at the barn. The emotions coursing through your body can add clarity, or can make your cues indistinguishable for your horse.
Learning these skills and begin communicating clearly with your horse.
Click here to learn more.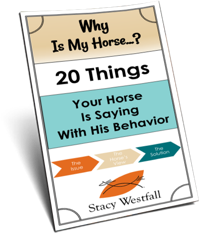 Free PDF Download "Why is my horse...20 things your horse is saying with his behavior"
PDF will be delivered to the email address you enter as will weekly tips from Stacy. Totally free. Unsubscribe anytime.