My body hurts. I'm moving slow. I'm thinking slower. 
My time zone change experiment three weeks ago, where I slowly changed my body clock to match Australia, worked. I arrived in Australia in pretty good shape.
Coming home I went cold turkey. I did nothing to switch my body back…and now I feel it. My body is caught somewhere in between time zones. 
But in the barn, the horses wait.
I've committed to training them.
So I forced myself out the door, one foot in front of the other.
I started slow and never changed speeds. But I did it.
Was my productivity high? 
No. 
Did anyone break a sweat?
No.
Do I feel better after doing it?
No. My body hurts. I'm tired. 
Was it worth it?
Absolutely. 
Drip by drip the training adds up. Six months from now I'll be glad I did it even though today I'm not as sure. 
Think long term.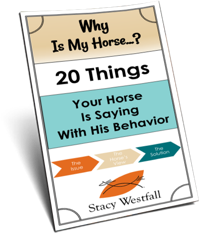 FREE PDF DOWNLOAD
WHY IS MY HORSE...?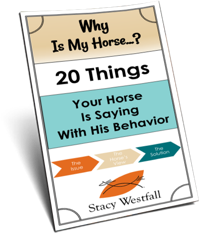 Free PDF Download "Why is my horse...20 things your horse is saying with his behavior"
PDF will be delivered to the email address you enter as will weekly tips from Stacy. Totally free. Unsubscribe anytime.