This visit to Last Chance Corral planted a seed. The seed that it planted grew into me adopting Presto in 2016. I'm so happy I did and I look forward to giving you even more updates!
Update: Presto is now two and a half years old. Below, in the comments, Marcia mentioned her teenaged nurse mare foal sucking her tongue. The first time I heard Presto doing this I couldn't figure out where the noise was coming from! It was echoing around the barn a bit but, sure enough, it was him sucking his tongue. I had never seen or heard of this before but it was pretty obvious that Presto was always looking to nurse, to satisfy that desire, long after he was past a normal weaning age. At two years old he was still sucking his tongue at random times. Not times of stress but instead while sleeping in the sun or almost napping.
Presto is turned out with other horses a lot and I haven't noticed the tongue sucking in the past few months. With the weather turning bad here in Ohio he will spend more time inside the indoor arena. I'll pay attention to see if the tongue sucking has gone away or if it is still there.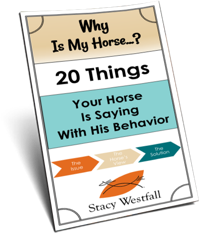 FREE PDF DOWNLOAD
WHY IS MY HORSE...?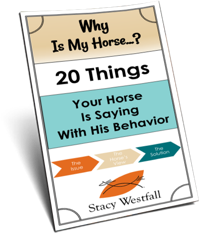 Free PDF Download "Why is my horse...20 things your horse is saying with his behavior"
PDF will be delivered to the email address you enter as will weekly tips from Stacy. Totally free. Unsubscribe anytime.