Question: "Why do you use a rope halter?"
Answer: A rope halter is a helpful because it communicates clearly with the horse and increases responsiveness. The rope over the poll area is more narrow than a traditional web or leather halter. When the handler applies pressure to the halter the signal is clear and more motivating.
I like to describe it like carrying a bucket of water. Have you ever carried a five-gallon pail where the white hand protector was broken off? I have many times. When I do, I am reminded that a wider handle is more comfortable than the thinner handle. I guess this is why the weights at the gym have nice big handles.
The thinner handle is more motivating to me to either put the bucket down or to find another bucket. While it is more motivating…I have to admit I have still been lazy enough to carry the bucket with the missing hand protector for weeks!
Some horses that are lazier respond well to the extra motivation (what does this say about me?). Rope halters replace the desire that some people have to use a chain lead rope and are safer for the horse than a chain as they don't carry the risk of excess pressure or pinching.
Question: "Do you always use a rope halter?"
Answer: No, not always. I prefer to trailer my horses in a flat web or leather halter. By the time they are loading on the trailer, they should have pretty solid basic skills. I will still put the rope halter on during training periods but I will mix and match my halter to what I am currently working on. If they get duller, I will go back to the rope halter. If they remain lighter I will move to a web halter, rope halter or liberty work.
Question: "What's so special about your rope halter?"
Answer: I like the rope halter I designed for three reasons; ease of use, weight, and looks. 
I designed the halter with the wrapped noseband to keep the noseband open when sliding it over your horse's nose. It drove me crazy when I would pick up a rope halter and couldn't quickly find the nose side (maybe that's just me:) The rolled half hitch is actually a throwback to my high-school bracelet making days (do kids still do that?).
I like the weight of the rope, not how much it weighs but rather how it feels. Some ropes are very thick and difficult to handle when trying to tie the knot. Not to mention that at some point they lose the above mentioned 'motivation' factor. This halter is constructed from a continuous piece of 1/4″ polyester yacht rope with a double core for the right feel and durability. The less fancy way of saying this is I like how it feels to handle and to tie the knot.
The halter is accented with a black or colorful noseband which I just plain enjoy! My husband has claimed the tan halter while I have more fun with the blue and turquoise. One thing I have done is to order certain colors in certain sizes so I quickly know that blue is small and turquoise is medium.
Those are my reasons but you have to decide if that makes it special!
If you are interested in ordering I have an affiliate link with Stagecoach West. They are great people who believe in offering exceptional customer service. If you use this link and the code 'Westfall' you will receive 25% off and I will receive a small commission at no added cost to you.
I call it a win-win-win situation.
CLICK HERE TO VISIT STAGECOACH WEST 
USE 'WESTFALL' IN CHECKOUT FOR 25% OFF HALTER!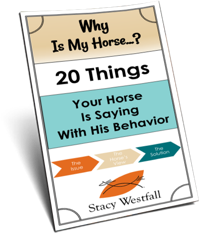 FREE PDF DOWNLOAD
WHY IS MY HORSE...?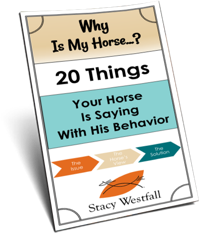 Free PDF Download "Why is my horse...20 things your horse is saying with his behavior"
PDF will be delivered to the email address you enter as will weekly tips from Stacy. Totally free. Unsubscribe anytime.