I'm so excited!!!! Years ago I created a logo but haven't really fully used it. I can say that no longer! Twiggy (yes-I named my logo Twiggy) is officially on Tee Shirts!!!
Twiggy will also be on the new backdrop that I use at Equine Affaire in Columbus, Ohio this weekend. The biggest take away I have from this is that setting deadlines is a helpful thing. By having the deadline of Tee Shirts (and sweatshirts too) by Equine Affaire I was able to finally get it done!
The really cool thing is that the company that is making them for me is willing to take custom orders and ship them out to customers like you! So if you find yourself in need of a shirt with Twiggy, I mean a horse on it, check these out! I'm also going to play around with different sayings because I LOVE a good quote:)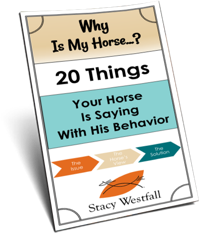 FREE PDF DOWNLOAD
WHY IS MY HORSE...?
Free PDF Download "Where is my horse...?"
20 things your horse is saying with his behavior.