Newt was clearly wishing to snack on this…but he just couldn't catch it!
The things you see around the barn! I'm not sure if we will ever have a comedian quite like Newt…although his younger brother Lincoln and my rescue pony Presto might give it a shot!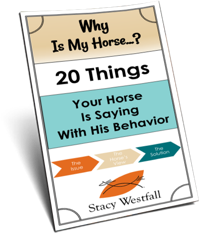 FREE PDF DOWNLOAD
WHY IS MY HORSE...?
Free PDF Download "Where is my horse...?"
20 things your horse is saying with his behavior.