We are at the Equine Affaire in Columbus, Ohio this weekend and lots of people are asking about clinic, lessons and other learning opportunities. I'm posting this blog with easy links to the pages that describe these.
Clinics: https://stacywestfall.com/clinics/#
Lessons: https://stacywestfall.com/lesson/
We encourage people to watch at DVD's to prepare for and decide if clinics or lessons are a good fit for you. It is important to know, like and trust the instructor you are learning from. We will also be holding both online and in person events…so be sure to either sign up for the weekly tips or keep checking back!
Gotta go-headed back to the expo!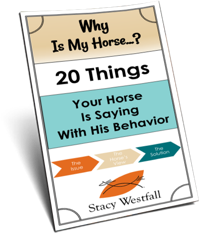 FREE PDF DOWNLOAD
WHY IS MY HORSE...?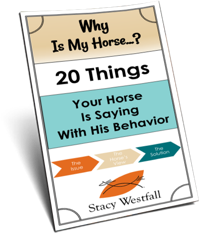 Free PDF Download "Why is my horse...20 things your horse is saying with his behavior"
PDF will be delivered to the email address you enter as will weekly tips from Stacy. Totally free. Unsubscribe anytime.