Let's ride together...
Are you achieving the results you've been dreaming of with your horse?
Or are you unclear about the training process...or frustrated by training information that seems conflicting?
At Westfall Horsemanship, Jesse and I train horses from the very first ride all the way to high-level competition. This demonstrates our full view of the horse training process. We have been successful in multiple disciplines, which shows that our methods produce longevity and versatility.
This, combined with our ability to teach and explain, is what makes our clinics unique. We can explain the full process, identify where you are stuck and give you exercises to advance you and your horse.  We welcome people who have been learning for years as well as those who are newer. Our only request is that you come with an open mind, lots of questions and a desire to advance. 
2020 Clinics!
Due to the current travel restrictions, clinics are currently on 'hold'. If you are interested...please email Stacy or fill out the application form. This will trigger an email to contact you when dates become available.
If you are interested in attending a clinic, I HIGHLY recommend that you purchase and study, The Complete Guide to Improving Steering and Teaching Neck Reining. This is will jump start your learning and allow you to cover more subjects during your clinic. 
*    *    *
Are you available during the week?
Do you wish you could attend a clinic where you were guaranteed one-on-one interaction with the instructor?
Stacy is offering a limited number of semi-private clinics this summer. You and one other person will be the only two people for two days of instruction. 
Limited space available. Email with questions or to suggest additional dates.
Foundation for a Lifetime Clinic
This clinic is specifically targeted for someone who wants to get a full overview of the horse training process. You will receive a full evaluation of where you and your horse are at in the training process and you will leave with a plan for the next exercises you should be working on. This clinic will cover both groundwork and ridden exercises.
Advancing with Excellence Clinic Series
Do you wish you could advance your horsemanship to a higher level for either personal or professional reasons?
We offer people the opportunity to go deeper into high-level horse training. Our clinics are tailored to each horse and rider which offers you a unique opportunity.
If your ready to advance your knowledge and understanding and you are willing to be a repeat customer, this may be for you.
Testimonials from Foundation and Advancing Clinic Participants
We specialize in small group clinics with your specific goals in mind. Read more about Martina and Ashley's experiences in the Foundation and Advancing Clinics. 
At every Westfall Horsemanship clinic you'll learn the theories behind horse training and how to put your knowledge to work. We believe studying horses is a life-long journey and the best teachers are horses themselves…most humans just need a translator. Join us to further you knowledge of horses, and remember that with knowledge, consistency, and time, you can make your dreams with horses come true!
"Stacy has a superb teaching style of being able to demonstrate her techniques as she talks and to apply what she talks about to all of our horses keeping it interesting.  She has a simplistic approach to her techniques so that non experts like myself can grasp the concept fairly easily.  I liked the fact that she made us take notes and had us discuss our notes in the end.  It made us better students and forced me to stay organized with my thoughts.  I am very impressed.  Stacy's one-on-one style made me feel comfortable and I never felt intimidated by her during the week even though her talents are amazing." Marti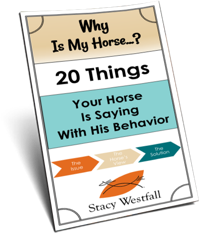 Free PDF Download "Why is my horse...20 things your horse is saying with his behavior"
PDF will be delivered to the email address you enter as will weekly tips from Stacy. Totally free. Unsubscribe anytime.