A quick blog, late at night, to update everyone on the foals…
…as of 3:15 this afternoon we officially loaded up our nurse mare foals and headed home! Both foals came with names that Last Chance Corral had given them. The little draft cross on the left with the white mark on his face is named "No Regrets" and the little appy cross on the right is named "Press On Regardless." Barn names to come. 
They both loaded like pros and made the trip easily. During the trip is when I really began to appreciate Victoria's wisdom in sending them in pairs. The trip was about three hours and although they stood quietly it was easy to see that they appreciated having a friend that they knew. 
They unloaded and immediately appreciated the bucket of milk we had ready. Neither seemed stressed and although I thought they would immediately nap they preferred to investigate everything. 
Our horses were VERY curious about who the new arrivals were but after the lights went out everyone really quieted down. I think I have read the info that Last Chance sent with me more than a dozen times in the last few hours. I was told that the foals usually go to bed around 10pm and the milk I made should last the night. Apparently, the foals have read this material too because as I was hanging the milk buckets they both curled up for the night while I was in the stall with them. Yes, I took full advantage of it by scratching them booth all over until my family started texting me to see if I was ok, lol. 
I might as well admit it…there is NO WAY I'm staying out of the barn till the morning….
Update: Presto and Justice were reunited at Equine Affaire 2018. They had not seen each other for almost a year and a half. How did it go? Click here to read the blog!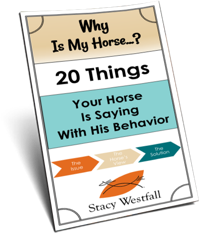 FREE PDF DOWNLOAD
WHY IS MY HORSE...?
No one taught you the skills you need to work through these things.
Riders often encounter self-doubt, fear, anxiety, frustration, and other challenging emotions at the barn. The emotions coursing through your body can add clarity, or can make your cues indistinguishable for your horse.
Learning these skills and begin communicating clearly with your horse.
Click here to learn more.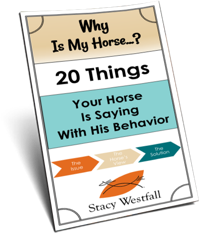 Free PDF Download "Why is my horse...20 things your horse is saying with his behavior"
PDF will be delivered to the email address you enter as will weekly tips from Stacy. Totally free. Unsubscribe anytime.