"Hi Stacy. I know this is a long shot. But I was hoping that you would share this picture on your Facebook and help to get these saddles returned home."-Kendra H
I received this email late last night asking for help in recovering stolen saddles…and it got me thinking. How often does this happen? Where do these saddles end up? After reading the post I was even more interested because these particular saddles are trophy saddles which should make them even easier to identify…and I would guess more difficult to hide. Have you ever had tack stolen before? Were you at home? At a show? Traveling? Looking back at the incident was there something you could have done to prevent it? What would you recommend others do? I wondered if a website existed for reporting these crimes. It looks like several have been started but my search didn't reveal any that have been regularly maintained. I wonder if this is because a different method worked better, maybe Craigslist or the police?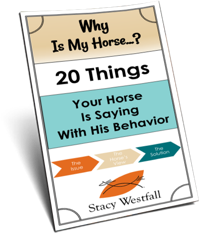 FREE PDF DOWNLOAD
WHY IS MY HORSE...?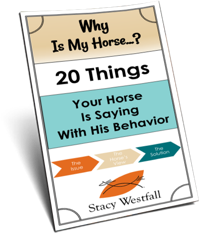 Free PDF Download "Why is my horse...20 things your horse is saying with his behavior"
PDF will be delivered to the email address you enter as will weekly tips from Stacy. Totally free. Unsubscribe anytime.