"Hi Stacy! Since you have travelled all over the US, I feel like you'd be the best person to ask this:

I'm potentially moving out of state within the next couple of years and when I move my horses, I know that they'll need to have Coggins testing done (some states require 1 year negative result). Where there other tests that you did with the horses? What is the process like when you cross the state borders? What kind of paperwork is needed and what were some of the pre-planning things you did (horse motels, etc) to ensure a smooth travel across the country? Thank you for your time! "Jess F.
Generally the two documents that are needed are a current Coggins test and current health papers. "Current" is actually defined by each state. In general it is considered current within a year but there are states that are exceptions, for example, one state requires the coggins to be within 6 months AND within the current year. Quirky.
But that is where your vet comes in.
When the vet writes the 'health paper' they will do a physical exam of the horse and get the address of where you are headed. They will call the state you are going to and double check that states requirements. The other great thing about this is that the vets are aware of any current health 'issues' that may be happening in certain areas. If there has been a recent outbreak of a disease some states may not allow you to travel to them. An example of this would be someone who wanted to travel from Texas to Kentucky during a time that Texas was having an outbreak in the area. Even if the horse that wishes to travel is not at a farm that is directly affected it is possible for the health paper to be denied. Inconvenient but understandable.
Some states, such as Florida and California, have inspection areas where they will check your paperwork. On our trip from Texas to Alabama the highway took us into Florida. Although we were not traveling 'to' Florida as our final destination they still checked our paperwork. Kentucky is a state where it is fairly common to be randomly pulled over and asked for your paperwork. Other states will do their inspections at events.
Sometimes I wonder what I should do with all of the paperwork I have accumulated. If I bound all my horsey travel papers together I could have a book. I am looking forward to the day when Global Vet Link or a similar service is wide spread but for now I will continue to carry my many colored pages. I'm glad you asked this question…it gave me another use for all these documents!
P.S.- Here is a link to a blog I did about finding horse motels too.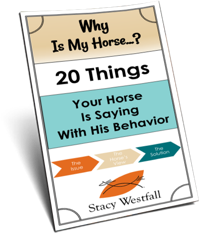 FREE PDF DOWNLOAD
WHY IS MY HORSE...?
No one taught you the skills you need to work through these things.
Riders often encounter self-doubt, fear, anxiety, frustration, and other challenging emotions at the barn. The emotions coursing through your body can add clarity, or can make your cues indistinguishable for your horse.
Learning these skills and begin communicating clearly with your horse.
Click here to learn more.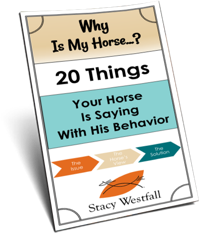 Free PDF Download "Why is my horse...20 things your horse is saying with his behavior"
PDF will be delivered to the email address you enter as will weekly tips from Stacy. Totally free. Unsubscribe anytime.