When I was young I belonged to a contesting club. We ran all kinds of speed events including barrel racing, pole bending and more. It was common, back then, for horses to refuse to go into the show pen. Maybe even more interesting…it was not only common, it was also accepted.
Over all the years that I have trained horses, I have noticed that horses often go through many of the stages that children do when learning. With a human child we understand that there is a stage where 'no' is their favorite word. We also understand that as teenagers develop they will often push and test authority as they develop a stronger sense of who they are.
I think horses go through many of these stages too.
The biggest difference that I see is that we adults would not trust a defiant and testy child with things of high value. Yet, through a lack of knowledge or ability to recognize the issue many adults climb onto horses who are defiant and testy….trusting them with our lives.
No person, or horse, or dog is perfect but we should be aware that a willingness to defiantly say 'NO' should be considered a red flag.
What does the red flag point to? It could be many things; immaturity, lack of understanding, a questioning of authority, soreness or more. The first step in figuring out what is going on is to acknowledge the red flag.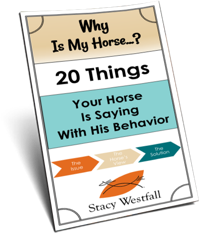 FREE PDF DOWNLOAD
WHY IS MY HORSE...?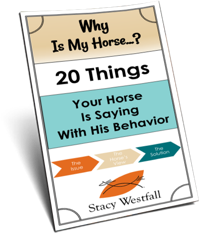 Free PDF Download "Why is my horse...20 things your horse is saying with his behavior"
PDF will be delivered to the email address you enter as will weekly tips from Stacy. Totally free. Unsubscribe anytime.