Jac after 20 minute evaluation (Episode 1).
The first week with Jac we filmed every day because the young horses learn so fast that if I jumped from day one to day three….you would see a huge change but wonder how I got there. So instead I decided to give more footage and allow people to decide what they want to see. It may not look like much today but the 'seeds' I plant in Episode 1 & 2 really start to bear fruit in the future episodes.
Episode 2 is the same day as episode 1, but now I am hooked onto him. Because of that, they will feel pretty similar. Jac is bored and frustrated in the beginning of this segment and doesn't understand that I am trying to communicate with him. You can see the change by the end of this episode and it carries forward into Episode 3 & 4.
Watch as I discuss pawing, introducing the stick and string, horse respecting a person's body space, horse's emotions, how long to work with a horse, when it is a good time or bad time to stop working with a horse and funky chicken dance moves!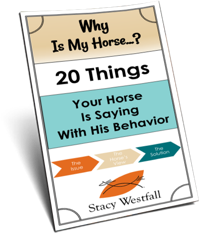 FREE PDF DOWNLOAD
WHY IS MY HORSE...?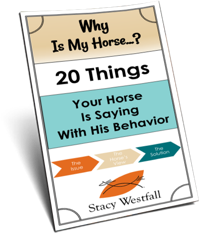 Free PDF Download "Why is my horse...20 things your horse is saying with his behavior"
PDF will be delivered to the email address you enter as will weekly tips from Stacy. Totally free. Unsubscribe anytime.