My husband loves football, my son loves football, my other sons know football. And then there is me. But I do live in O-H-I-O….so I hear quite a bit about the Buckeyes.
Today, at church, three of the Buckeye football players spoke. The Buckeyes hold the nations longest current winning streak….so they understand pressure.
Two things stuck out to me.
#1- A comment was made as each player took turns introducing one another. When introducing the team captain the statement was made that, 'he is our leader, and sometimes a leader has to be the bad guy.' (I didn't record this but was writing as fast as I could, so I am not claiming exact quotes)
The statement rang true to me because when I am training a horse, to be the leader sometimes also means being the bad guy.
#2-The question was asked: How has your faith affected you as a football player?
Joshua Perry-Fearlessly be yourself
CJ Barnett- No matter what happens, if I make the play or don't make the play (you all might be mad at me….lots of laughter at this) but Gods not
Michael Bennett-It is all part of the plan
Yes, these are my shortened notes to their answers but even so the truth rings clear.
I don't know much about football. But then again I don't need to.
Gods lessons and truths ring clear in horses, football and life.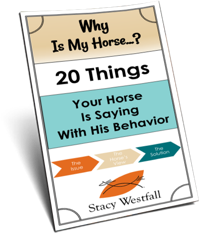 FREE PDF DOWNLOAD
WHY IS MY HORSE...?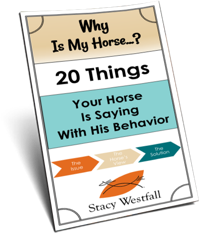 Free PDF Download "Why is my horse...20 things your horse is saying with his behavior"
PDF will be delivered to the email address you enter as will weekly tips from Stacy. Totally free. Unsubscribe anytime.