It took 800 hours of training before I rode Roxy bridleless the first time. It took over 1,000 hours of training before the historic "Live Like You Were Dyin" ride.
Now meet Jac at 0 hours of training.
Have you ever wondered how a professional begins evaluating a horse? Watch as I evaluate Jac's raw reactions before I begin training. I discuss confidence, leads, level of fear, which side Jac wants to keep me on, training vs. evaluating, planting seeds, reading a horse's body language and increasing a horse's desire to come to you.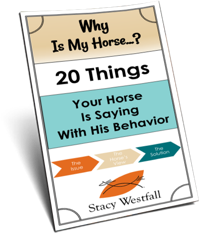 FREE PDF DOWNLOAD
WHY IS MY HORSE...?
No one taught you the skills you need to work through these things.
Riders often encounter self-doubt, fear, anxiety, frustration, and other challenging emotions at the barn. The emotions coursing through your body can add clarity, or can make your cues indistinguishable for your horse.
Learning these skills and begin communicating clearly with your horse.
Click here to learn more.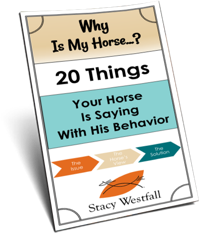 Free PDF Download "Why is my horse...20 things your horse is saying with his behavior"
PDF will be delivered to the email address you enter as will weekly tips from Stacy. Totally free. Unsubscribe anytime.