It took 800 hours of training before I rode Roxy bridleless the first time. It took over 1,000 hours of training before the historic "Live Like You Were Dyin" ride.
Now meet Jac at 0 hours of training.
Have you ever wondered how a professional begins evaluating a horse? Watch as I evaluate Jac's raw reactions before I begin training. I discuss confidence, leads, level of fear, which side Jac wants to keep me on, training vs. evaluating, planting seeds, reading a horse's body language and increasing a horse's desire to come to you.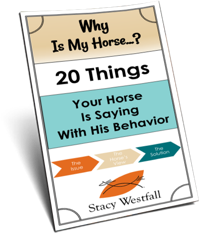 FREE PDF DOWNLOAD
WHY IS MY HORSE...?
Free PDF Download "Where is my horse...?"
20 things your horse is saying with his behavior.