I got and especially nice treat last weekend when I learned that Larry Whitesell was going to be giving a clinic less than fifteen minutes from my moms house. (Some of you know that I have been up in Maine visiting family and eating too much lobster;)
Jesse and I had the pleasure of meeting Larry several years ago at a horse expo. Ever since I have made it a point to visit with Larry every chance I get. What Larry didn't know, until I told him on Saturday, was that spending some time with him this summer was on my summer goal list. Really! True!
I have never claimed to be an expert with gaited horses. In fact that is why I looked up Larry all those years ago because I wanted to be sure that I was not giving advice that would cause problems in gaited horses. Larry gave me great advice and I heard him repeat it to the people attending his clinic.
He asked the question "If you had to choose between a horse that was safe or a horse that would gait which would you choose?" Then he said he hated that he had to even ask the question. But it makes a great point and that is that you go with safe first and then work on gait. Now here comes the best part…really….the best….
AS YOU GET CONTROL OF YOUR HORSES BODY IT IMPROVES HIS GAIT!
So really, getting the tools that keep you safe and give you more control…is also giving you tools to improve the gait.
The most interesting part for me was seeing Larry use exercises that were so similar to things that I do when I train. Not to get too detailed but many of the exercises we do on our reiners to improve their body position for a sliding stop….are what Larry uses to engage the hind end and improve gait!  There were many more that were similar which is great for me because it shows me another use for exercises I already have.
A big thanks to Larry for letting me hang out and inviting me to visit your place…I am planning on taking you up on your offer!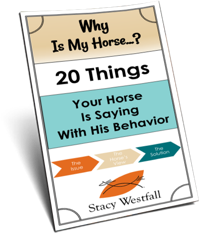 FREE PDF DOWNLOAD
WHY IS MY HORSE...?
No one taught you the skills you need to work through these things.
Riders often encounter self-doubt, fear, anxiety, frustration, and other challenging emotions at the barn. The emotions coursing through your body can add clarity, or can make your cues indistinguishable for your horse.
Learning these skills and begin communicating clearly with your horse.
Click here to learn more.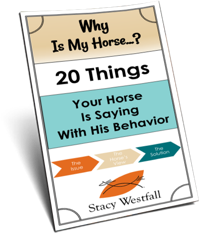 Free PDF Download "Why is my horse...20 things your horse is saying with his behavior"
PDF will be delivered to the email address you enter as will weekly tips from Stacy. Totally free. Unsubscribe anytime.