Is anyone else feeling older? I know, I know, I'm going to hear from people much older than I am telling me that I don't know what I'm talking about…and I admit that, in a way, I don't. But in a way I do. But back to the point.
My point is this, I have noticed more aches and pains as I age. Some annoying, some chronic and some worse.
      But I have also noticed something else recently. It started when my boys started running cross country. That means they have to practice. Sometimes I drive them to practice so I decided why not? My body aches when I am not working out…why not give it a reason to hurt? At least this way I am getting some benefit!
The day after I made this decision I drove the boys to the track and just as we stepped out of the van another car arrived. Out of it stepped a couple in their 70's. As they headed to the track I noticed that man was moving much slower and his wife had gone on ahead. Watching as we all began circling the track I noticed the man showed signs of having had a stroke in the past. But there he was.
He walked for at least a mile before they left and each lap he inspired me more and more. He was taking control and choosing his pain…or maybe his pleasure.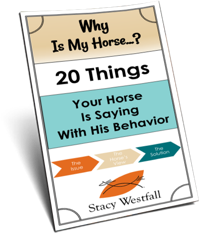 FREE PDF DOWNLOAD
WHY IS MY HORSE...?
No one taught you the skills you need to work through these things.
Riders often encounter self-doubt, fear, anxiety, frustration, and other challenging emotions at the barn. The emotions coursing through your body can add clarity, or can make your cues indistinguishable for your horse.
Learning these skills and begin communicating clearly with your horse.
Click here to learn more.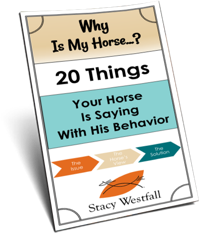 Free PDF Download "Why is my horse...20 things your horse is saying with his behavior"
PDF will be delivered to the email address you enter as will weekly tips from Stacy. Totally free. Unsubscribe anytime.