"I like nonsense, it wakes up the brain cells. Fantasy is a necessary ingredient in living."
― Dr. Seuss
 Maybe fantasy is a necessary ingredient. I just finished watching The Lorax with my boys and my mom. I felt silly fighting back tears for singing fish! But what an amazing ability to convey BIG lessons in such a magical way.
When I was in high school a graduation speech was given based on the Dr. Seuss book "Oh, the Places You'll Go!" and I highly suggest that you buy a copy of that book to re-read to your adult self (good for un-slumping yourself…) Here is a quote:
"You have brains in your head. You have feet in your shoes. You can steer yourself any direction you choose. You're on your own. And you know what you know. And YOU are the one who'll decide where to go…"
― Dr. Seuss, Oh, the Places You'll Go!
I do love the internet. I can think of no other age when at the end of the movie, without getting off the couch, it is possible to access info on what you just watched. Did you know that Theodor Seuss Geisel originally wrote under his own name but was kicked off the magazine staff (caught partying during Prohibition) and then began  submitting under his pseudonym? Did you also know that 'Seuss' was his mothers maiden name?
And one more uplifting thought. His first book was rejected 27 times before finally being published!
Feeling 'un-slumped' yet?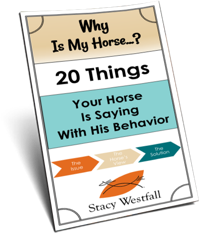 FREE PDF DOWNLOAD
WHY IS MY HORSE...?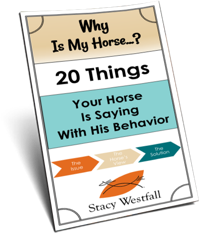 Free PDF Download "Why is my horse...20 things your horse is saying with his behavior"
PDF will be delivered to the email address you enter as will weekly tips from Stacy. Totally free. Unsubscribe anytime.