Those of you who have been following my progress in mounted shooting may have noticed that I pretty much took last year off. At least in the public view.
Behind the scenes I was actually shooting quite a bit…at a walk and a trot. Popcorn wasn't quite sure that he wanted to participate in the the game. So I kept it slow and took all of last year (not to mention the year and a half prior to that) to finish building his confidence.
And here is a photo of the results! I finally moved up to a level 2! For those of you who are not familiar with the levels a rider begins at one and moves up to six. At this rate I calculate it will take me…..twelve year! Lol…
Hopefully we retain what we have learned a little better than that. Or at least I hope so! Here is a video of us at work.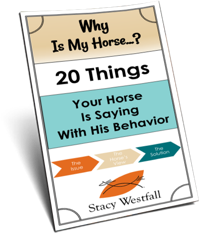 FREE PDF DOWNLOAD
WHY IS MY HORSE...?
No one taught you the skills you need to work through these things.
Riders often encounter self-doubt, fear, anxiety, frustration, and other challenging emotions at the barn. The emotions coursing through your body can add clarity, or can make your cues indistinguishable for your horse.
Learning these skills and begin communicating clearly with your horse.
Click here to learn more.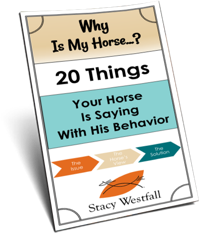 Free PDF Download "Why is my horse...20 things your horse is saying with his behavior"
PDF will be delivered to the email address you enter as will weekly tips from Stacy. Totally free. Unsubscribe anytime.