I drove a mini van to Road to the Horse this year. That is how I forgot my boots. No kids, no horses, just my husband and myself for six days-five nights. That is a record in our 15 years of marriage.
Forgetting the boots looked suspicious though. Jesse and I stopped by the RTTH to get our passes the day before it opened and I pointed out a pair of Corral boots at Rusty Spur Couture….
The next morning my old faithful boots were no where to be found in the mini van. I tried to convince Jesse that I could wear my hiking boots all weekend. He did not agree and looking at this photo I think he was right…and I got a NEW pair of boots!
We feel like kids again being out with no commitments! Having some free time made it easier for us to explore Tennessee a little more. I guess that was a good decision as Tootie Bland announced yesterday that Road to the Horse 2013 would be moving to Lexington, Kentucky next year!
We had fun hanging out and talking to everyone at RTTH including spectators (which we are too) and the competitors. I hope my friendly warning to the newer competitors helped. I told them that they needed to get some sleep tonight…but that they were probably going to be running and re-running the round pen over and over in their heads all night…and then when that slowed they would be imagining the next days round pen. At least that is what happened to me.
As if in some sort of payback my brain decided to run on over drive all last night. In my dream (or nightmare) I was in a colt starting
competition in some unknown, small dusty arena with about 50 spectators. Nothing was working out for me. My horse was missing, I was required to do a freestyle reining and my dress was locked up and I didn't have keys…and on and on! I am hoping that the guys slept better than I did.
I am excited that I finally got to hold the first copy of my new (and first) book. People have been asking for a book for years and now I have one! It was fun writing the chapters in the beginning that explain the way I see horses and how I balance them in training. More about this later. Well, time to head back to RTTH for the second go round!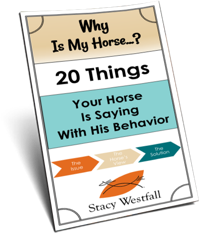 FREE PDF DOWNLOAD
WHY IS MY HORSE...?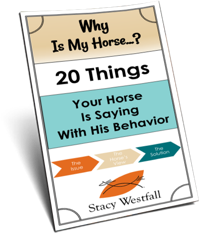 Free PDF Download "Why is my horse...20 things your horse is saying with his behavior"
PDF will be delivered to the email address you enter as will weekly tips from Stacy. Totally free. Unsubscribe anytime.