"Stacy, here is a video of my horse Raeyon as I am teaching her to bow. I would appreciate any suggestions on how to progress." -Katherine K.
Thank you for sending me this video! There were a couple of things I noticed…so I made a video for you. You really are very close. When you are watching my video with Popcorn one thing you should notice is that both of our horses look sleepy, lol. I think this is great because they do not look stressed.
Keep in mind that when I put the rope on Popcorns leg for this video it had been over two months from the last time I had asked him to bow AND the last time I used a rope on him was well before that. I am telling you this so you can keep in mind that Popcorns response time was slow…but the good news is he was thinking. If I had repeated this rope test with him 5 minutes later, or if I had been bowing him more frequently I would have expected him to be a little quicker. Like most things, if you practice this often then it will become the answer your horse is looking for.
The main point here is that you can see that Popcorn knows that I am not going to release his leg from the rope until his knee touches the ground. Once he understands that with the rope we have crossed one hurdle.
The other hurdle is getting him to hold his leg up on his own without the rope. Once we have achieve that; the horse holding the leg up without the hoof touching the ground for an extended amount of time (1-2 minutes), then the bow with a tap alone is right there.
Why?
Because the horse has already figured out that the 'answer' when the rope is used is to touch the knee down. He will eventually apply this idea to the leg being held up by the tap and….ta-da!
Your horse will bow from a simple tap.
REMEMBER: THE VIDEO BELOW IS NOT A REPLACEMENT FOR THE ONE HOUR LONG DVD THAT CONTAINS MUCH MORE INFO AND MORE HORSE EXAMPLES.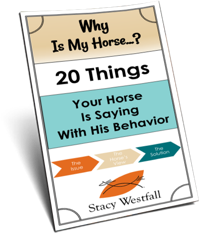 FREE PDF DOWNLOAD
WHY IS MY HORSE...?
No one taught you the skills you need to work through these things.
Riders often encounter self-doubt, fear, anxiety, frustration, and other challenging emotions at the barn. The emotions coursing through your body can add clarity, or can make your cues indistinguishable for your horse.
Learning these skills and begin communicating clearly with your horse.
Click here to learn more.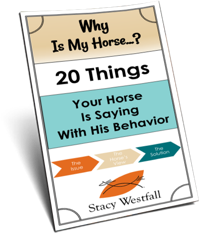 Free PDF Download "Why is my horse...20 things your horse is saying with his behavior"
PDF will be delivered to the email address you enter as will weekly tips from Stacy. Totally free. Unsubscribe anytime.