What was your first thought when you saw this saddle? When I first saw it I thought 'better have a long backed horse'!
A quick google search reveals that this is considered a 'double seat western saddle'. As a kid, I rode double behind my mom a lot. We rode on a bareback pad. I tried riding behind a saddle but it really wasn't fun… but we didn't have one of these saddles either!
Now I am left to wonder if this saddle would have been a good answer or if bareback pad was the best.
Has anyone ever used one of these? I would love to know how you liked it and how well it fit the horse.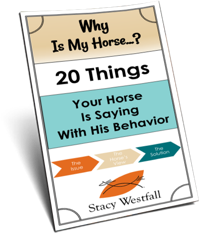 FREE PDF DOWNLOAD
WHY IS MY HORSE...?
No one taught you the skills you need to work through these things.
Riders often encounter self-doubt, fear, anxiety, frustration, and other challenging emotions at the barn. The emotions coursing through your body can add clarity, or can make your cues indistinguishable for your horse.
Learning these skills and begin communicating clearly with your horse.
Click here to learn more.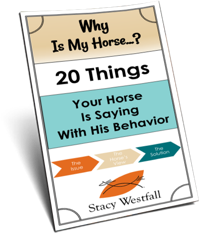 Free PDF Download "Why is my horse...20 things your horse is saying with his behavior"
PDF will be delivered to the email address you enter as will weekly tips from Stacy. Totally free. Unsubscribe anytime.