Ever wondered why Stacy didn't own Roxy? Or Jac?
Meet Greg, the man who took a risk and bought Roxy for the Westfall's to train. Greg went from trail riding and camping to owning one of the most famous horses in the world. What was that like and how did it happen?
Listen for
The reason why Stacy & Jesse didn't buy Roxy.
Why Stacy doesn't have regrets
Why Greg kept buying Roxy a secret…(I love Jesse's response to that one, "Well, it turned out OK.")
The fact that Greg owns Roxy's mother and full sister, two of Roxy's daughters and Roxy's granddaughter
How many foals did Roxy have?
Funny stories about owning Roxy….
What was it like owning a famous horse?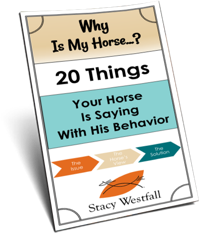 FREE PDF DOWNLOAD
WHY IS MY HORSE...?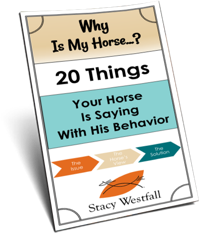 Free PDF Download "Why is my horse...20 things your horse is saying with his behavior"
PDF will be delivered to the email address you enter as will weekly tips from Stacy. Totally free. Unsubscribe anytime.