Change is hard because it means taking on something new.
We have lived in at least eight different places over the last six months. I am aware that 'at least' may seem like a strange statement…but I have had some difficulty in counting. This mainly stems from the question of how to identify a place we have lived vs a place we have passed through. For instance, I am currently parked at a horse show in Jackson, Ohio. The photo here is from a few hours ago. Everything the five of us…plus our horses…have used to live for the last six months is in this rig pictured here or in our mini van. Does that mean we are 'living' here?
The change we signed up for was giving up a permanent base of operation a.k.a. our home. The new part has been learning how to live on the road. We knew it wouldn't be easy because change never is.
We also knew that we would be the most tempted to jump back to the 'safety' of a familiar lifestyle during the first few months of change. As we passed the six month mark last week I can say that this new 'normal' of living on the road…with horses and three kids, is starting to get comfortable!
Comfortable! Yep, we are getting pretty good at moving around and none of us regret what we are doing. In fact, now that we have made it through the early phase of learning this new lifestyle we are actually MORE excited than we were in the beginning.
I don't know what the future holds…but who among us really does? I am spending time with my family and my horses, seeing many new places and meeting new people.
Nope, change isn't easy but it can be rewarding.
P.S.-I'm thinking about having a map added to our website where I can drop a pin everyday so you can see where we are and where we have been…what do you think?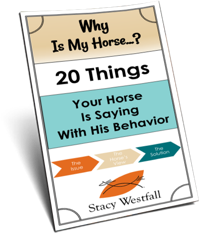 FREE PDF DOWNLOAD
WHY IS MY HORSE...?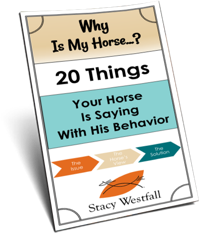 Free PDF Download "Why is my horse...20 things your horse is saying with his behavior"
PDF will be delivered to the email address you enter as will weekly tips from Stacy. Totally free. Unsubscribe anytime.