'Let it go…let it go…' The song from Frozen keeps running through my head as I am writing this.
I am a planner by nature. I often fall asleep at night planning the next day, filling my mornings, afternoons and evenings before the day has even begun.
Planning is good. But maybe too much planning makes me think I can control things. I can't plan a beautiful sunset…but hopefully I haven't overbooked myself so much that I can't stop to enjoy it.
When I try to control too many things, I add stress to my life and to those around me and I also, quite possibly, shut the door on other things that could be waiting for me.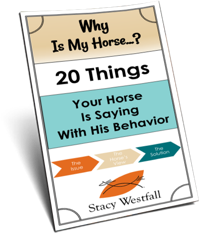 FREE PDF DOWNLOAD
WHY IS MY HORSE...?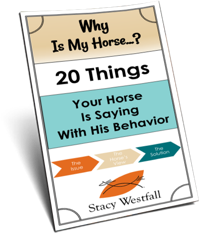 Free PDF Download "Why is my horse...20 things your horse is saying with his behavior"
PDF will be delivered to the email address you enter as will weekly tips from Stacy. Totally free. Unsubscribe anytime.