"What are the show clothes trend for this season for adults and kids in both open show reining classes and reining shows?"-Ingrid S.
Your asking the wrong person! Let me illustrate….
Once for Christmas my husband bought me tickets to a fancy music thing in downtown Columbus. He also told me to go shopping for clothes. This might excite some women…but it struck fear in me. As the day approached I finally headed to the mall. Standing in the sea of clothes I was overwhelmed…so I phoned a friend.
I said, "Ann, I'm buying a black turtleneck and heading home."
She replied, "No! I'm on my way, I'll be there in 15 minutes!"
Ann successfully dressed me in a skirt and shirt that I never would have picked out…but really liked once they were on.
If in doubt…I call a friend. One of my 'friends' in the horse world is Suzi from Hobby Horse Clothing. Even before meeting Suzi, I loved her 'color chart' that helps riders match colors with their horses.
I see people wearing a wide variety of things. Some of it depends on the show with weekend shows generally more causal than the big shows. At weekend shows I will often wear a lightweight, feminine button down.
At the bigger shows, or if you just want to have fun, it is possible to see much fancier outfits. I have a couple of special shirts that I will only wear at big events because I would feel too overdressed at a weekend event.
Check out the photo below from the show a week ago. Jesse is talking to me one last time before I go into show….and do you notice I am wearing chinks?
Was it a fashion statement moment? Nope.
Actually, I went to hook my standard black chaps and the Chicago screw fell out, the chinks were in the same bag…I normally wear them for mounted shooting…but why not?
One piece of advice I got from K.C. at Charlie 1 Horse (my fancy hats) was something like…."Most people say you should pick one item to focus on; a fancy hat, a special belt, or a stand out shirt. People will say you should focus on one…but if you want to wear it all and you feel good doing it…then go for it."
What event do you show in and what do you wear?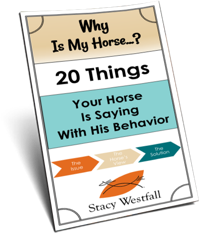 FREE PDF DOWNLOAD
WHY IS MY HORSE...?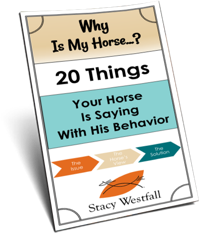 Free PDF Download "Why is my horse...20 things your horse is saying with his behavior"
PDF will be delivered to the email address you enter as will weekly tips from Stacy. Totally free. Unsubscribe anytime.