"Hi Stacy! I have a 17 year old mare that we bought last year. She is the sweetest mare I have ever known, however, she is a pain in the rear to saddle.
When we first bought her, her owners told us she was cinchy and showed us how they saddled her. They explained that after she had two foals, they tried to saddle her tied up and she flipped and went over backwards.
Her problem is that she can't/won't hold still. I have just been letting her walk around in circles around me. She used to seem a little tense, but I have done it enough times to notice that she isn't scared or nervous at all, but it does seem unwise to me to tie her up and have the same thing happen again (I didn't actually witness that).
So now I have a horse that takes forever to saddle because she can' hold still. And I know I have reinforced this habit, I just don't know how to break it. Help!"
Thanks,
Michaela
There are several things that could be going on here. My best guess is that prior to having her two foals, your mares saddle training probably had 'holes' in it. I have had broodmares that were unridden for two or three years that were fine when they were saddled up again. I did lunge them and review groundwork for 20-30 minutes before throwing the saddle on, but flipping over backward should be considered an extreme reaction.
If the mare had any spots that had been skipped or things that had been overlooked, then time off, plus quick saddling, it could have resulted in the huge reaction. I would also guess that someone was ignoring the mares body language during this disastrous saddling as there were likely signs that were either missed or ignored. I agree with you that you should not tie her up. I am going to guess that she was tied during the flipping over which is also an indication that she was likely lacking in that area of training also.
With your description it seems like moving around is a habit. I have seen horses that were not taught to stand still…so they move. Until the mare is trained to stand she is likely to wander especially as she has been allowed to in the past.
If you go back and watch the Jac series you will find places that this mare is lacking. If you only watch the video where I am saddling Jac you will not see all of the parts that went into teaching him to stand still. Go back and watch the prior episodes and look specifically for places where I have him standing still. I don't always point this out but you can see it if you are looking. For example, when I am teaching him to stand facing me while I whip around him with the stick and string…I am teaching him to stand still under pressure. When I am bouncing the ball around him and off his sides, I am also teaching him to stand still.
Go back and watch the first time that I bridle Jac in Episode 13. That episode talks about emotional and physical cycles which is also key in getting a horse to stand still. Even the later exercise of teaching a horse a 'parking brake' to stand still for mounting is still reinforcing the idea of a horse being trained to stand still.
I would suggest restarting this mare. Go back through all of the steps that were shown in the Jac series. If the mare is solid in her training then this shouldn't take long but as you find the 'holes' in her training, celebrate that you are on your way to having a solid broke horse that stands still for saddling.
P.S.- I have a long standing disclaimer that you should always evaluate and look for physical symptoms of pain. You indicated that it appears to be more of a habit and I answered the question from that angle. I always recommend consulting vets, chiropractors, dentists, etc as horses often display pain or discomfort by showing signs 'resistance' in training. Always keep looking for pain as a possible source of the problem even while you are working on the training aspect.
*     *     *
The episode below is where I explain how to use physical and emotional cycles. They could also be considered physical work and physical rest cycles. This cycle is important because the hard work makes the standing still seem easy and desirable in comparison…which is why the horses begin to choose to stand still.
This episode is where I saddle Jac for the first time. Look closely at my body language, his body language and the use of work/rest cycles.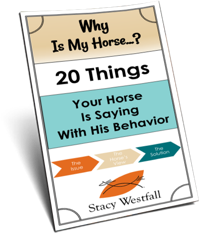 FREE PDF DOWNLOAD
WHY IS MY HORSE...?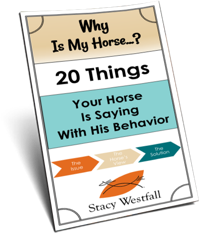 Free PDF Download "Why is my horse...20 things your horse is saying with his behavior"
PDF will be delivered to the email address you enter as will weekly tips from Stacy. Totally free. Unsubscribe anytime.