A little over a year ago I set a goal for myself to blog every day for one year. That was a measurable goal. I also set the goal of having the #1 Horse Blog on the internet. Here is the interesting thing.
I had no idea how to measure if I had reached that goal. I'm not a tech person, I don't know web analytics and I'd never seen a award given for the 'best horse blog.'
But I'm not a stranger to setting goals that are difficult to measure. Sure, I can set out to ride my horse five days a week, that is a very measurable goal but often I want more. I want to have a good 'relationship' with my horse. How do I measure that? Should I give him a survey at the end of the year? If we have one bad day does it erase three good ones? In the end I have to accept that some goals are easier to measure than others.
This week I was surprised, and thrilled, to see the photo below pop up on my Facebook page. I know that HorseClicks isn't trying to say that I'm the #1 Horse Blogger out there…but the post was still exciting for me to see. Maybe I did reach that goal. Maybe I didn't. Maybe I will never know. But I'm still glad I set it because it helped point me in the direction I wanted to go.
Setting goals doesn't always require knowing the end result.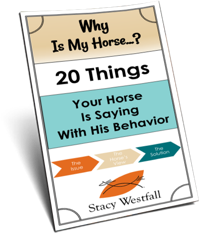 FREE PDF DOWNLOAD
WHY IS MY HORSE...?
No one taught you the skills you need to work through these things.
Riders often encounter self-doubt, fear, anxiety, frustration, and other challenging emotions at the barn. The emotions coursing through your body can add clarity, or can make your cues indistinguishable for your horse.
Learning these skills and begin communicating clearly with your horse.
Click here to learn more.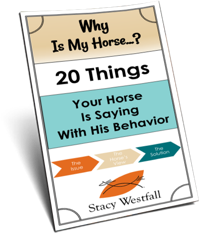 Free PDF Download "Why is my horse...20 things your horse is saying with his behavior"
PDF will be delivered to the email address you enter as will weekly tips from Stacy. Totally free. Unsubscribe anytime.