Growing up in Maine I expected snow and even looked forward to it. When the snow was almost belly deep to our pony my brother and I would lead her up to our house and climb on her bareback…and basically bridleless. She did have a halter on but we unsnapped the lead rope to let her run back to the barn…with us riding her!
She followed the same path we had lead her on which made a 90 degree turn following the corner of our house. Our goal was to jump off into the snow as she made that turn…then we would catch her back and the barn, lead her back, and do it again. Yep, I had a strange childhood:)
Do you live in an area that experiences winter? Do you enjoy it?
How does it change your routine with your horse?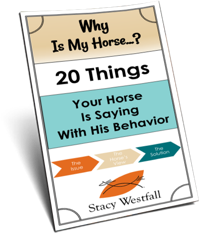 FREE PDF DOWNLOAD
WHY IS MY HORSE...?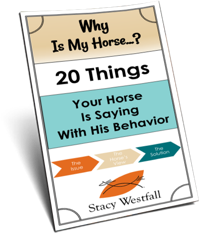 Free PDF Download "Why is my horse...20 things your horse is saying with his behavior"
PDF will be delivered to the email address you enter as will weekly tips from Stacy. Totally free. Unsubscribe anytime.