In the summer we took a trip to Colorado stopping in Larkspur to do a clinic and then exploring the state. One of our stops was Mesa Verde. It was well worth the trip. As we drove Jesse offered the boys a dollar to anyone who saw unusual animals and of course, wild horses.
On our last day, driving out of Mesa Verde a small herd was spotted. In excitement we backed the van up for a closer look. The group was a bachelor band of stallions. It was hot and they were not very active. I noticed one horse in particular while were watching. I wish I had my better camera (not just my phone) in hand to zoom in more.
This horse had an injury to his 'private part' that was very swollen and could not be retracted fully. It made me wonder what would happen to him in the dry heat. There were some flies, less than Ohio, but still it makes me wonder how friendly 'natural' is.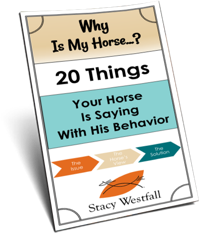 FREE PDF DOWNLOAD
WHY IS MY HORSE...?
No one taught you the skills you need to work through these things.
Riders often encounter self-doubt, fear, anxiety, frustration, and other challenging emotions at the barn. The emotions coursing through your body can add clarity, or can make your cues indistinguishable for your horse.
Learning these skills and begin communicating clearly with your horse.
Click here to learn more.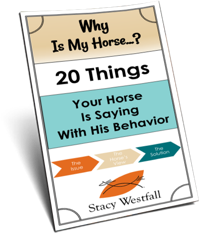 Free PDF Download "Why is my horse...20 things your horse is saying with his behavior"
PDF will be delivered to the email address you enter as will weekly tips from Stacy. Totally free. Unsubscribe anytime.