Someone just asked me today what is was like to be on Ellen's show. In one word: unreal. 

Even today it is hard for me to believe that it really happened. I watched this video when I was loading it and it seems like something that someone else did. 

Yes, Ellen really is that funny in person. She was also amazingly real and genuinely concerned. She offered advice during the commercial breaks (yes, they really do run out with make up and touch you up during that time). 

It still amazes me how in the process of chasing your dream it is possible to catch more than you ever dared to dream.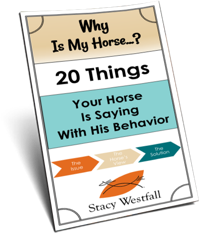 FREE PDF DOWNLOAD
WHY IS MY HORSE...?
No one taught you the skills you need to work through these things.
Riders often encounter self-doubt, fear, anxiety, frustration, and other challenging emotions at the barn. The emotions coursing through your body can add clarity, or can make your cues indistinguishable for your horse.
Learning these skills and begin communicating clearly with your horse.
Click here to learn more.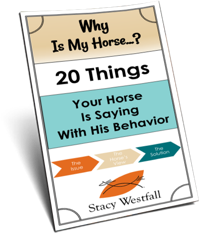 Free PDF Download "Why is my horse...20 things your horse is saying with his behavior"
PDF will be delivered to the email address you enter as will weekly tips from Stacy. Totally free. Unsubscribe anytime.