If you want the short version just jump to around the 4 minute mark where you can see Ellen spin on Roxy. The audio was cut out for the length of the song because the whole video kept getting pulled due to copy right.
Although this is labeled and was shown as 'part two' on the show it was the first time that I had met Ellen. When you see Ellen walk down the steps and I ride over and jump off…that is when it happened.
It was a great experience. I loved the part where Ellen was spinning Roxy because you can see how well Roxy was reading her rider. When the rider was more cautious…Roxy was more cautious. As the rider became more confident, Roxy stepped up the speed. That last set of spins was going somewhere!
The neatest part for me was gaining first hand experience of meeting such a popular person. It allowed me to feel those nerves, I mean the excitement 😉 of meeting someone very well known.
But you know the best part? Roxy's reaction. Roxy showing us all that no matter 'who you are' horses are going to look at how you treat them and judge you by that.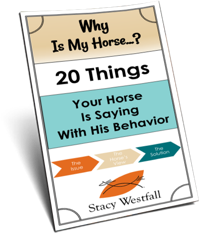 FREE PDF DOWNLOAD
WHY IS MY HORSE...?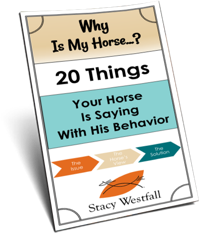 Free PDF Download "Why is my horse...20 things your horse is saying with his behavior"
PDF will be delivered to the email address you enter as will weekly tips from Stacy. Totally free. Unsubscribe anytime.