In the last month we have sold several of our horses and helped to sell a few for others. If you have ever seen 'Lilo and Stitch' (the cartoon) I have said that I feel like Lilo looking for each horses 'one true home.'
I noticed something interesting though. About three quarters of the horses sold to people who lived out of state.
When I look back over my years of dealing with horses I have also noticed that this is a trend. Even when I was young I remember people saying with awe 'I bought him from out west'. Back then I lived in Maine so that could have been Indiana!
Have you seen this? Does it happen in other industries? Anyone have any thoughts on this.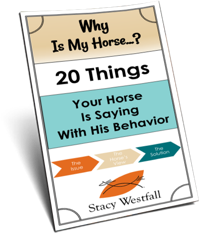 FREE PDF DOWNLOAD
WHY IS MY HORSE...?
No one taught you the skills you need to work through these things.
Riders often encounter self-doubt, fear, anxiety, frustration, and other challenging emotions at the barn. The emotions coursing through your body can add clarity, or can make your cues indistinguishable for your horse.
Learning these skills and begin communicating clearly with your horse.
Click here to learn more.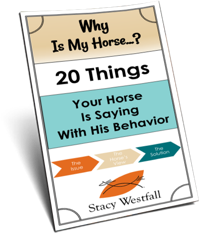 Free PDF Download "Why is my horse...20 things your horse is saying with his behavior"
PDF will be delivered to the email address you enter as will weekly tips from Stacy. Totally free. Unsubscribe anytime.